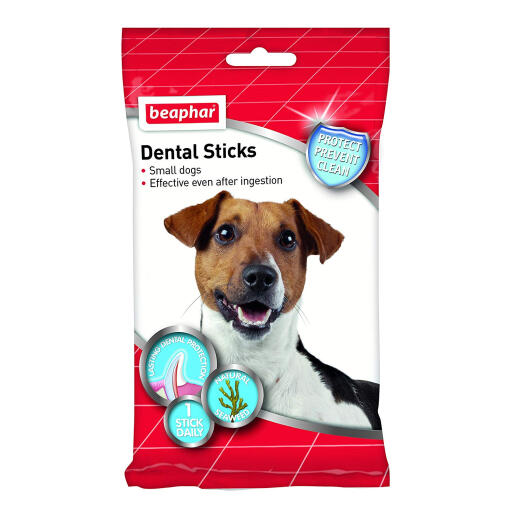 Beaphar Dental Sticks for Small Dogs
Checking stock in our warehouse...
Please be aware that this product is on offer due to its best before date: December 2023
Beaphar Dental Sticks are formulated with a range of dental disease fighting ingredients including natural brown seaweed, anti-tartar agents and de-caffeinated green tea extract. They are also a great source of the superfood spirulina and they encourage your dog's natural mouth and teeth cleaning processes throughout chewing and long after ingestion.
Natural brown seaweed is proven to counteract common dental problems by removing the underlying causes of tooth decay, while anti-tartar agents prevent plaque and tartar adhering to the teeth which reduces the occurrence of dental disease. De-caffeinated green tea extract helps to keep bad breath at bay by neutralising bad odours.
These unique star shaped sticks are naturally low in fat with no artificial flavourings or colourants. Suitable for small dogs between 5kg and 10kg over 4 months old.
Feed one stick per day as a treat or reward. This pack contains 7 Beaphar Dental Sticks.
Composition: Derivatives of vegetable origin, Cereals, Minerals (sodium hexametaphosphate 4%), Algae (brown seaweed 2.55%, Spirulina 1.47%), Yeasts, Oils and fats.
Beaphar Dental Sticks for Small Dogs