SALE- Verm-X Herbal Liquid for Chickens 250ml
by Verm-X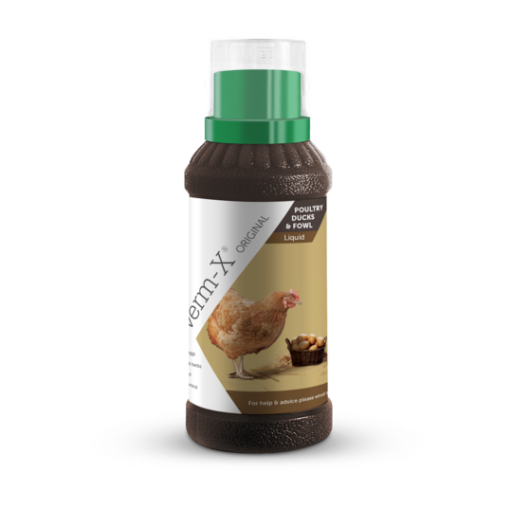 Verm-X is a 100% natural liquid for free range chickens that helps maintain all areas of intestinal hygiene whilst being gentle on the hen's gut and digestive system. When fed over a period of time it works to create an environment in the gut that is able to eradicate and expel any intestinal challenges, offering natural and daily protection. Verm-X works more gently than conventional pharmaceuticals and it will give your chickens continous protection. Although you cannot prevent your hens from picking up intestinal challenges, this will help to stop them from settling and doing damage. Verm-X is a 100% herbal formulation, made from non-GM, natural ingredients, and it is therefore classified as a complementary feed stuff. Being a 100% natural herbal formula there is no need to stop using the eggs whilst treating your hens. Most people choose to use Verm-X alone, but some choose to alternate it with a pharmaceutical. This is completely safe as there are no ingredients in Verm-X that would inhibit the work of any ingredient used in pharmaceutical products, or vice-versa. The liquid formulation can be added to drinking water or soaked into bread and fed directly. Doseage: Add 1.5ml (graduated measuring cup with every bottle) per bird to approximately 50ml per bird of drinking water or soaked in bread. Repeat for three consecutive days each and every month or as required. Disallow other drinking water if placing in a water source until all the Verm-X water is drunk. A 250ml bottle of liquid will last 10 birds over 6 months. Ingredients include: Allium Sativum (Garlic), Ulmus Fulva (Slippery Elm), Mentha Piperita (Peppermint), Thymus Vulgaris (Common Thyme), Gallium Aperine (Cleavers), Cinnamomum Zelandicum (Cinnamon), Picrasma Excelsa (Quassia), Tanacetum Vulgare (Tansy), Foeniculum Vulgare (Fennel), Urtica Dioica (Nettle), Capsicum Minimum (Cayenne.)
RRP: €27.34
€21.87 Inc VAT
You Save €5.47
Checking stock in our warehouse...
If you would like to be notified when it becomes available, please enter your email address below.
Packed Product Details
Weight: 0.280 kg
Height: 6 cm
Width: 6 cm
Length: 16 cm
Latest Product Reviews For SALE- Verm-X Herbal Liquid for Chickens 250ml
There are no reviews for this product yet. Click the button below to write one.
Write Review
Customer Images - SALE- Verm-X Herbal Liquid for Chickens 250ml