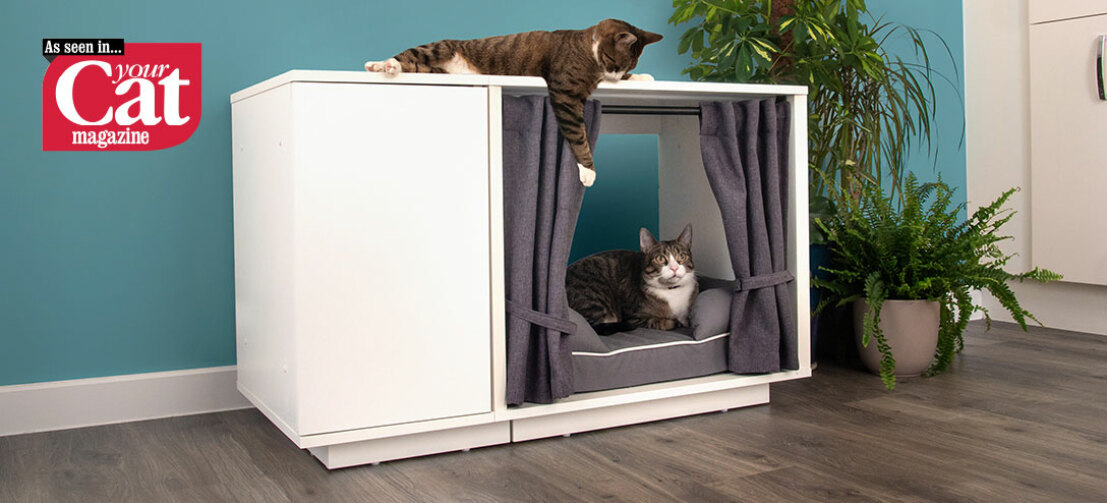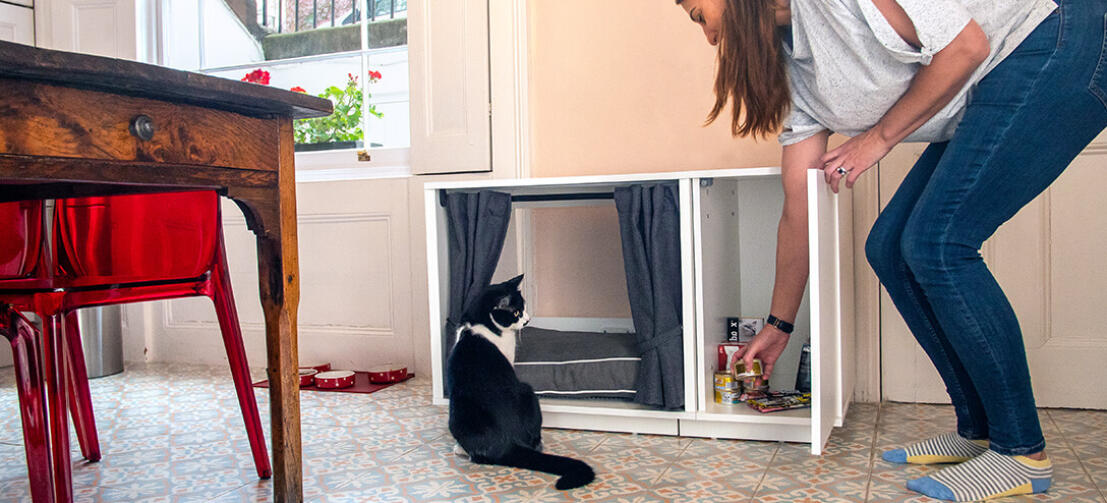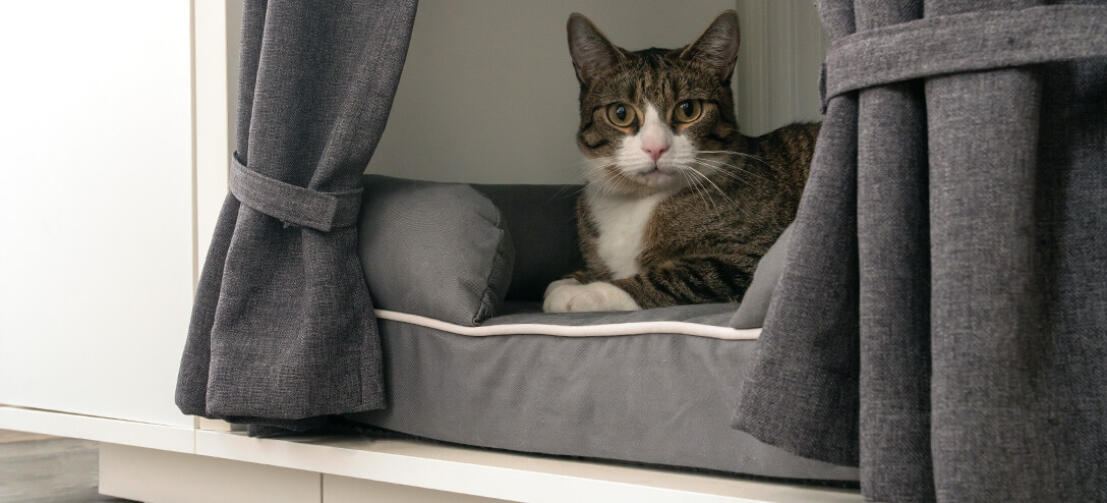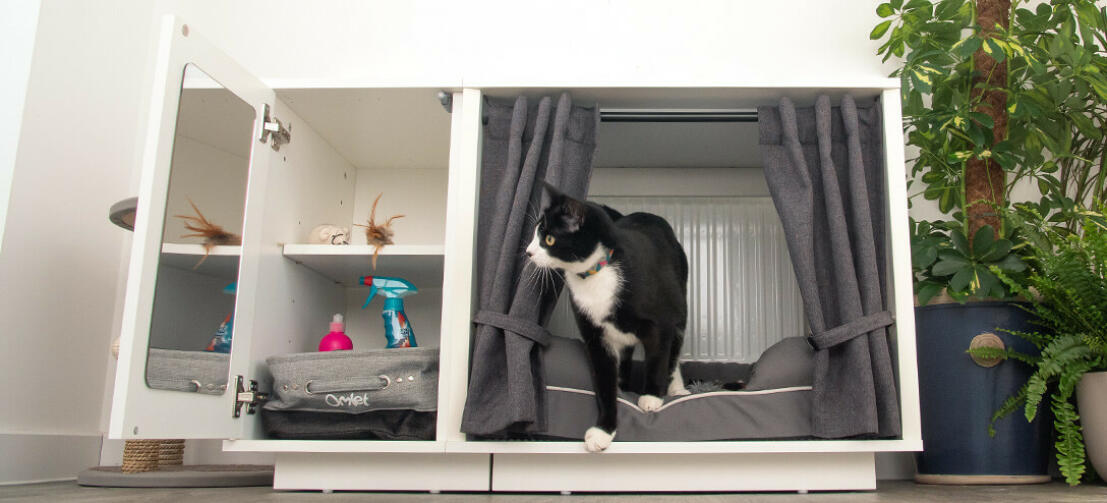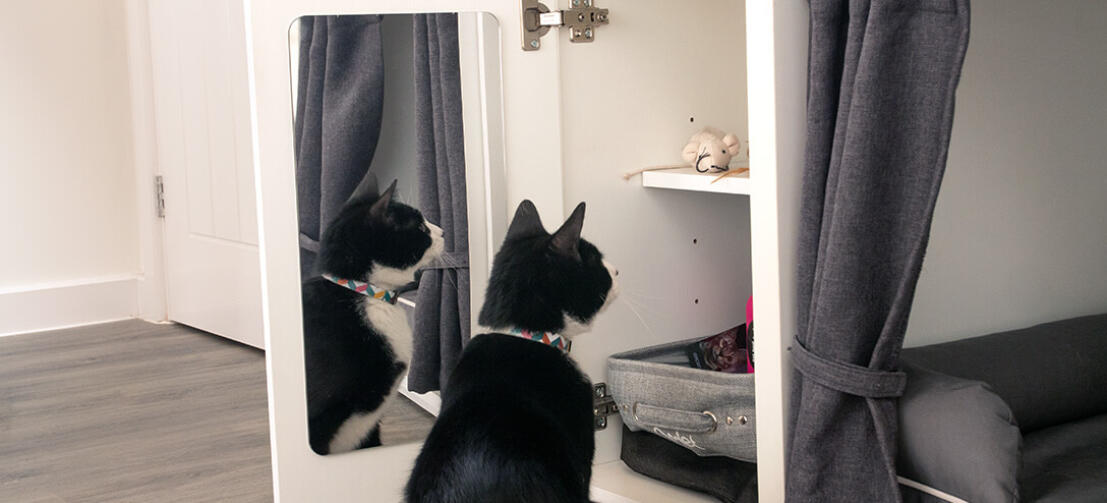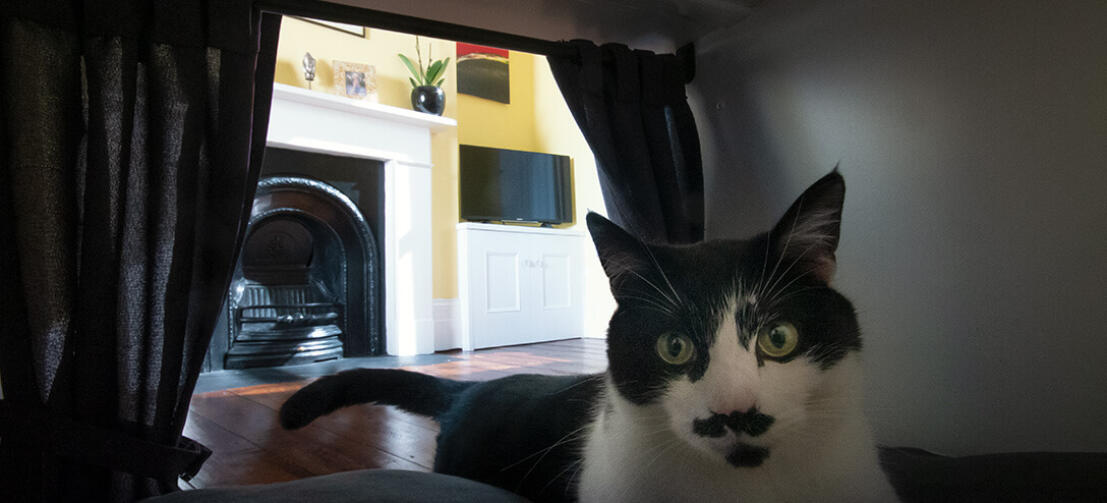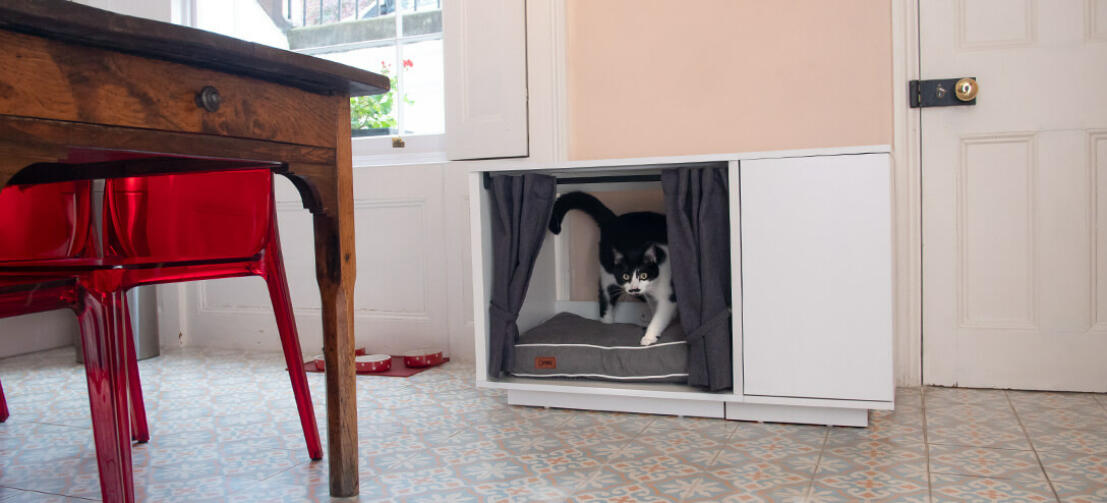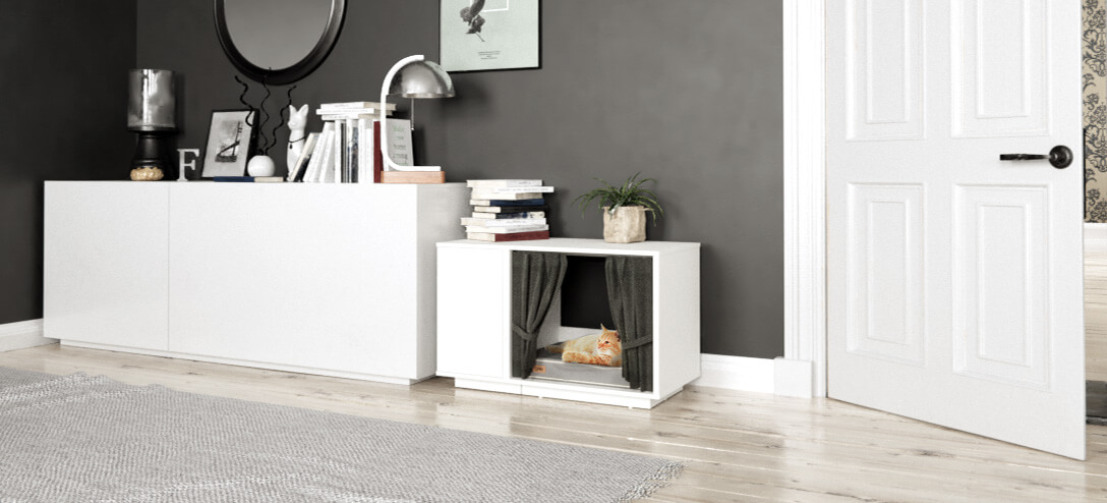 New Maya Nook - The Luxury Indoor Cat House
Meet your cat's new favourite space - the stunning Maya Nook Luxury Indoor Cat House. Featuring the world's first curtains for a cat house, the Maya Nook is the ultimate cosy cat bed.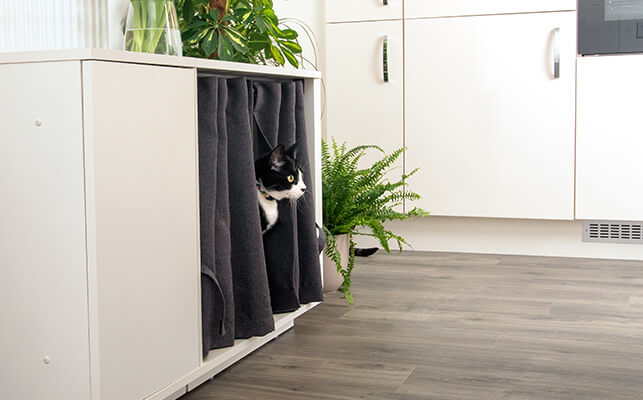 The Maya Nook is the ultimate luxury indoor cat house
The Purrfect Indoor Cat Den
Not only does the Maya Nook look great in any home, the furniture doubles up as a handy sideboard that allows you to utilise the space above the cat bed, space that would be lost with a normal cat igloo style bed. Available in two sizes, the Maya Nook 24 has an internal width of 63cm / 25in and has been engineered to be the most comfortable indoor cat house available for one or two cats. The Maya Nook 36 has an internal width of 96cm / 38in and the extra space can be enjoyed by two or more cats on a large cat bed.
Whether you have a bengal or maine coon, siamese, tortoiseshell or tabby the Maya Nook is the ultimate cat cave hideaway.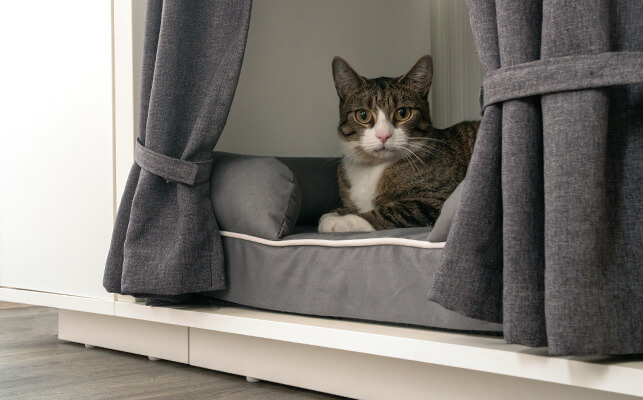 Raising the cat bed off of the ground helps to protect your cat from draughts and chills
Raised Bed Reduces Draught And Increases Coziness
In virtually every house it can be surprisingly draughty low down on the floor and raising your cat's bed by placing it in the Maya Nook will protect your pet from catching a chill. Adding the optional curtains creates the ultimate cosy space. Especially suitable for older cats who are more likely to feel the effects of a chilly draught the Maya Nook will provide the added comfort and warmth that they need.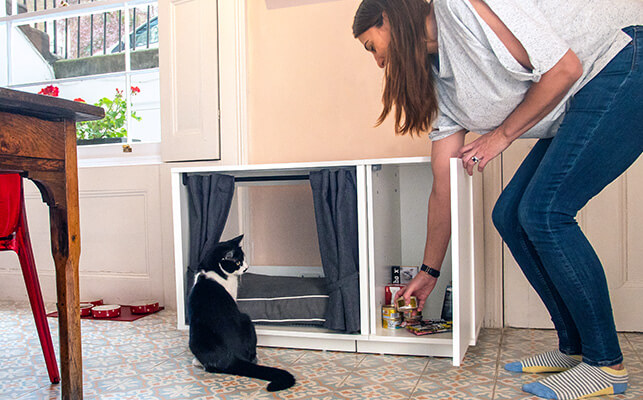 The wardrobe of the Maya Nook cat house furniture is ideal for storing your cat's toys, food and treats
Integrated Wardrobe Helps To Keep Your House Tidy
The Maya Nook is available with a fully integrated wardrobe which offers a practical storage solution for cat toys, cat treats, grooming accessories and other feline favourites. You can customize the wardrobe with a handy storage basket and a shelf to provide even more options for storing items like cat food and litter.
The wardrobe integrates seamlessly on either the left or right hand side of this modern cat house to create an elegant and incredibly practical storage solution. Now all of your feline accessories can be practically stored together within your cat's very own, beautifully designed luxury cat house.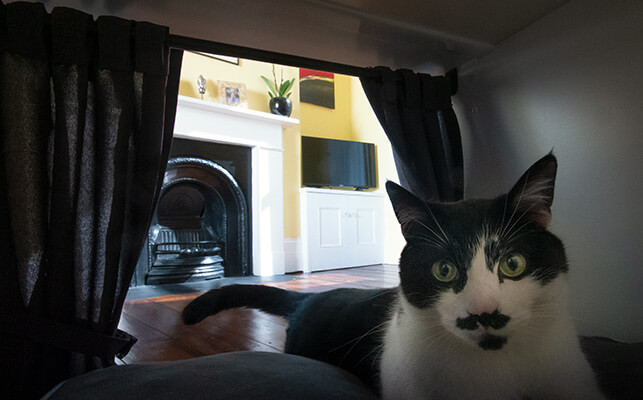 Create a fully secluded hiding place for your cat with the Maya Nook curtains
Closed Curtains Provide A Safe Haven To Relax
Perhaps the most unique feature of the Maya Nook is the fully functioning curtain set. The curtains are not just a beautiful decorative touch. Closing them creates a fully secluded space for your cats to relax. This is important because seeking out enclosed spaces is an inbuilt, instinctive behaviour for cats. Once inside they can feel safe and can fully relax.
Providing your cat with their own secluded space such as the one offered by the Maya Nook can not only make your cat feel more comfortable but has also been shown to improve confidence and overall behaviour in felines. This is especially true with cats who have a tendency to be nervous or cats who take longer than usual to adapt to changes in their environment.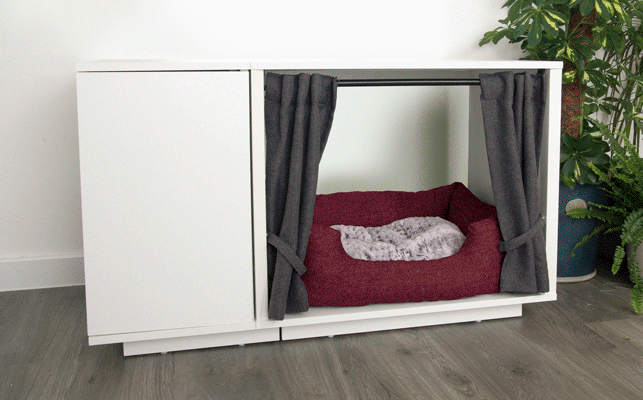 The Maya Nook is compatible with a wide range of cat beds
Ideal For Use With Most Cat Beds
If your cat already has a favourite bed such as a memory foam bed or vet bed it can be placed in the Maya Nook or you can choose a Deep Filled Bed supplied by Omlet. The Maya Nook 24 measures 63cm/25in across and 49cm/19in front to back and is ideal for use with the Dream Paws Cat Cosy Bed. The Maya Nook 36 measures 96cm/38in across and 63cm/25in front to back, with the Dream Paws Cat Sofa Bed providing a snug fit. Every Maya Nook comes with an anti-slip mat that sits underneath the cat bed that you choose to put in and ensures it stays in place. By placing your cat's bed in the Maya Nook you also neatly catch excess fur in one place, keeping your house cleaner.
Subtle And Stunning At The Same Time
The subtle design of the Maya Nook cat furniture complements both modern and traditional home interiors and looks great in any room of the house. Designed and extensively tested by Omlet, the Maya Nook's look and feel can be altered by your choice of colour and style of bed. And because it's a complete piece of furniture the space above your cat's bed can be reclaimed as a side table to display plants, a beautiful side light or any number of other cherished items.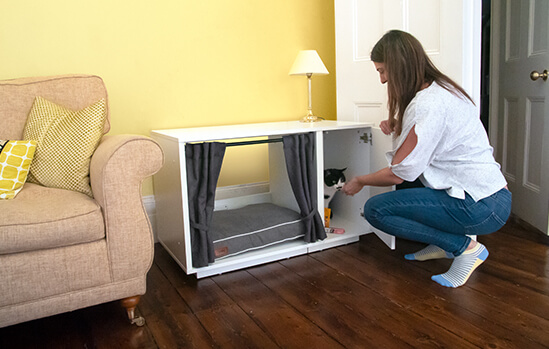 The Maya Nook Cat House blends seamlessly into your home as a piece of contemporary furniture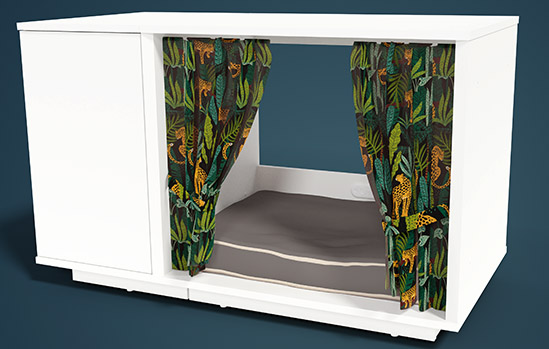 Why not make some curtains for your Maya Nook to match your home?
Storage Wardrobe Keeps Things Tidy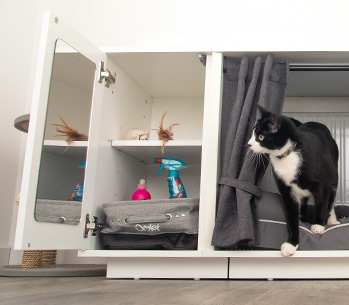 The optional wardrobe keeps your cat toys, cat food, cat treats and other feline favourites nice and tidy in one place.
Durable Tray to Catch Spills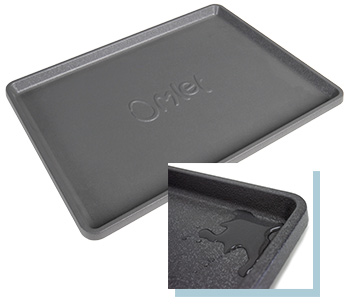 This tough plastic tray will catch any spills making cleaning quick and easy.
Deep Filled Bed That Fits Purrfectly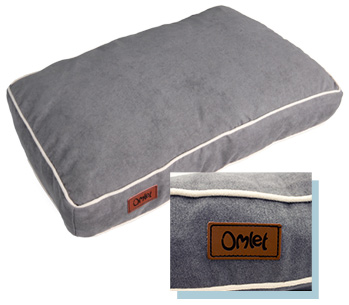 This extra deep filled cat bed is designed to fit exactly into the Maya Nook and has a removable machine washable cover.
Pull Out Basket For Easy Storage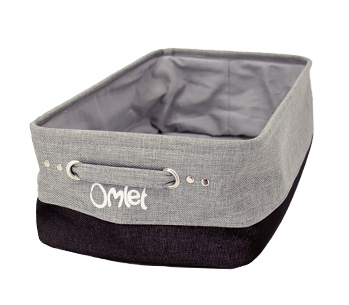 Keep cat toys, treats, and grooming accessories in this large basket. Finished in a two tone grey and with a second easy to wipe liner, it's a really useful addition to the Maya Nook wardrobe. Comes with a handle at each end to make carrying easy.
Integrated Mirror and Shelf
Get the most out of your Maya Wardrobe with the optional mirror and shelf. The shelf is a handy way to divide the wardrobe and allows easy storage of your cats food and bowl while the stylish mirror is made from 2mm safety acrylic.
Stylish Curtains Create An Enclosed Space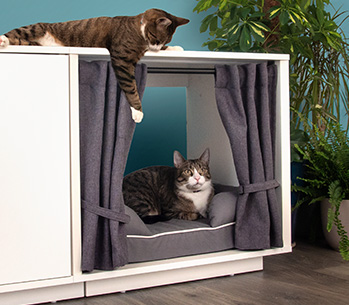 Your cats will love the secluded space that the curtains create to sleep, relax and feel at ease.
Maya Nook Dimensions and Packaging Specification
The Maya Nook is currently available in two different sizes, both of which are suitable for all breeds and sizes of cat. The Maya Nook 24 is ideal for comfortable use by one or two cats while the Maya Nook 36 offers space for a large cat bed that is suitable for two or more cats. Please see below for dimensions and specifications of each size. If you are not sure or have any questions about which size will be right for you please don't hesitate to call us on the number at the top of the website or email our friendly customer service team and they will be very happy to help you.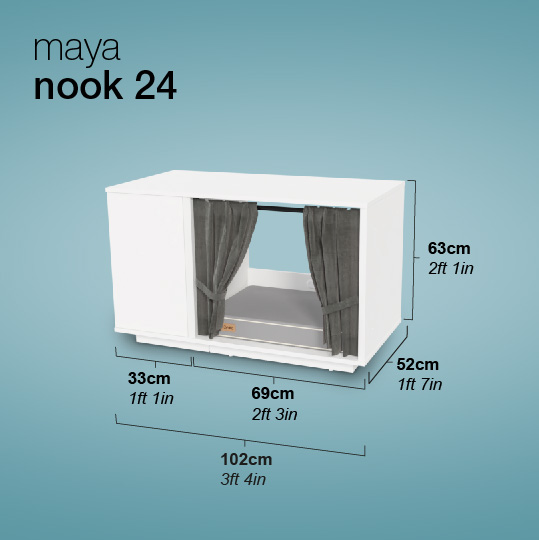 Maya Nook 24 Dimensions:
External - Length 69cm/27in, Depth 52cm/20in, Height 63cm/25in
Internal - Length 63cm/25in, Depth 49cm/19in, Height 54cm/21in

Maya Nook 24 Closet Dimensions:
External - Length 33cm/13in, Depth 52cm/20in, Height 63cm/25in
Internal - Length 29cm/11in, Depth 48cm/19in, Height 54cm/21in

Maya Nook 24 Packaging Dimensions:
Boxed Fido Nook: 76.8cm x 56.3cm x 11.5cm (21.6kg)
Boxed Wardrobe (optional): 73.3cm x 59.4cm x 8.6cm (14.3kg)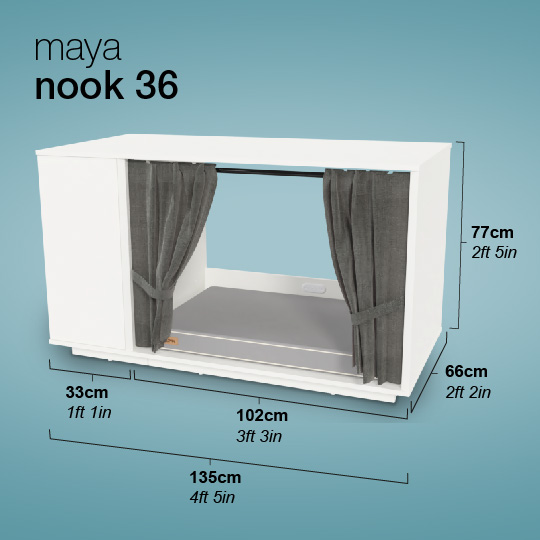 Maya Nook 36 Dimensions:
External - Length 102cm/40in, Depth 66cm/26in, Height 77cm/30in
Internal - Length 96cm/38in, Depth 63cm/25in, Height 68cm/27in

Maya Nook 36 Closet Dimensions:
External - Length 33cm/13in, Depth 66cm/26in, Height 77cm/30in
Internal - Length 29cm/11in, Depth 62cm/24in, Height 68cm/27in

Maya Nook 36 Packaging Dimensions:
Fido Nook Box A: 109.3cm x 71.9cm x 7.4cm (14.2kg)
Fido Nook Box B: 76.8cm x 68.9cm x 7.5cm (16.6kg)
Boxed Wardrobe (optional): 74.9cm x 72.8cm x 9.0cm (18.9kg)
Frequently Asked Questions
Which size do I need for my cat?
Both sizes are suitable for all breeds and sizes. The Maya Nook 24 is ideal for one or two cats, and the 36 is perfect if you have a large cat bed or more than two cats who like to sleep together.
Can I place the wardrobe on either side?
Yes, however you will need to decide before you start assembling the product on which side you want the wardrobe to go. You can only add one wardrobe to your Maya Nook.
My magnet doesn't seem to work, what's the problem?
You might have to twist the magnet to make sure it fits properly. Contact our customer service team if you cannot get it to work!
New Maya Nook - The Luxury Indoor Cat House
Brilliant hideaway for multi-cat households
The nook is a perfect retreat, especially for a multi-cat household. Our 4 cats have plenty of beds and hiding places but the nook proved irresistible, especially to Clive and Luigi. Although our cats all get along swimmingly, they still like to take themselves off to a quiet corner sometimes. I have put the nook in my office which has proven to be the perfect spot for the cats, not to mention I now have some extra surface to put stuff on. It's a win-win all round here. Cat mum to The North London Crew , Luigi, Clive, Hula & Archie. @lillmanlulu_luigi_and_co
Review for:
Maya Nook 24 Indoor Cat House with Wardrobe and Bed and Curtains - White
I got this gorgeous Maya Nook for my Dewy. We had just moved home so he was a little scared and this Nook was the best thing for him. The curtains were lovely, gave him his own privacy. Looks beautiful in my home too, goes with all my decor! Put all of my Dewy's treats in the storage cupboard, even though I could fit way more in it! Thank you so much. Very satisfied customer.
Review for:
Maya Nook 24 Indoor Cat House with Wardrobe and Bed and Curtains - White
Mav and Mickey are very attached!
Initially I wasn't sure if my cats would like the Maya Nook, they tend to sleep anywhere around the house and they're not too fussy about where they snooze however recently my sleep has been disturbed multiple times throughout the night that I thought it would be a good time to try them in their own bed. It took the cats initially a few days to get used to their new Nook/bed and we've also recently moved house therefore they've been a lot more nervous and anxious. The cats now LOVE the Nook, I found that they started using it as their "secret" hideaway particularly when we had visitors and now at night time they chose to sleep in their Nook instead of my bed. I think they find it nice to have their own cosy den and it means my sleep isn't interrupted anymore. I used to have to keep the cats feed and treats in a locked box as they always managed to open the packets themselves when I was out. The wardrobe on the side of the Nook is perfect for preventing this problem and it also gives me a tidy place to store all of their toys. Considering I was a bit apprehensive about this product initially, I now can't imagine our house without it. Mav and Mickey are very attached! I'd say the Maya Nook is the cat bed you didn't even know you needed!
Review for:
Maya Nook 24 Indoor Cat House with Wardrobe and Bed and Curtains - White
Good product, looks nice in my house
Nice to see someone making sensibly priced indoor cat houses with a bit of style. It took a while to screw together (probably should have waited until the hubbie got home but wanted to start using) and I've decorated the top with a lamp and some photos so it looks very cosy and homely for Eddie. Would have given it 5 stars but i think until people make products that can screw themselves together i'm going to stick to 4 being my maximum! I might run up some curtains to match the living room as a really nice finishing touch.
Review for:
Maya Nook 24 Indoor Cat House with Bed and Curtains - White
Made such a difference to my cats
I bought this after watching some youtube videos about giving your cats a space within your home that's kind of like a den, it's supposed to be good especially if you have kids and maybe other pets so that they can have their own bit of territory. I have a maine coon called Gal, she's a big cat but the Maya 24 is fine for her. After I put herblanket in she took to it straight away, the curtains make it looks really nice and i think that she likes it best when they are shut so she can peek out at us!
Review for:
Maya Nook 24 Indoor Cat House with Bed and Curtains - White
Read more reviews