Eglu Go Rabbit Hutch
The easy to clean Eglu Go Rabbit Hutch with optional secure run is the perfect way to keep pet bunnies in your garden!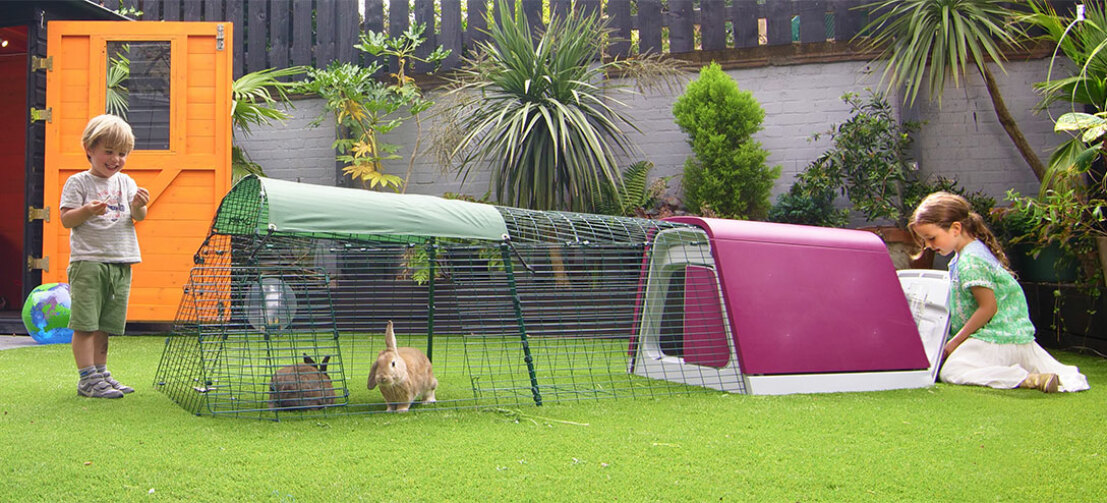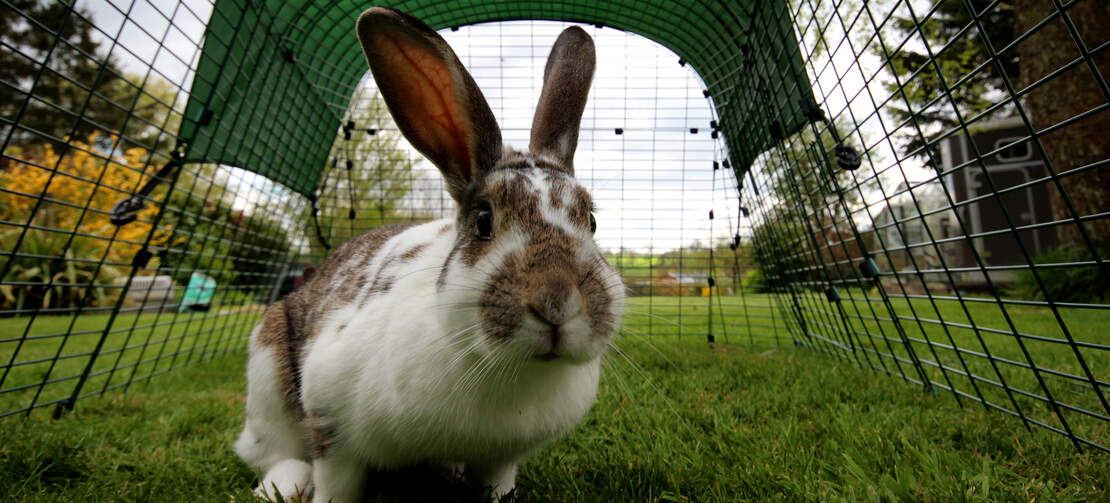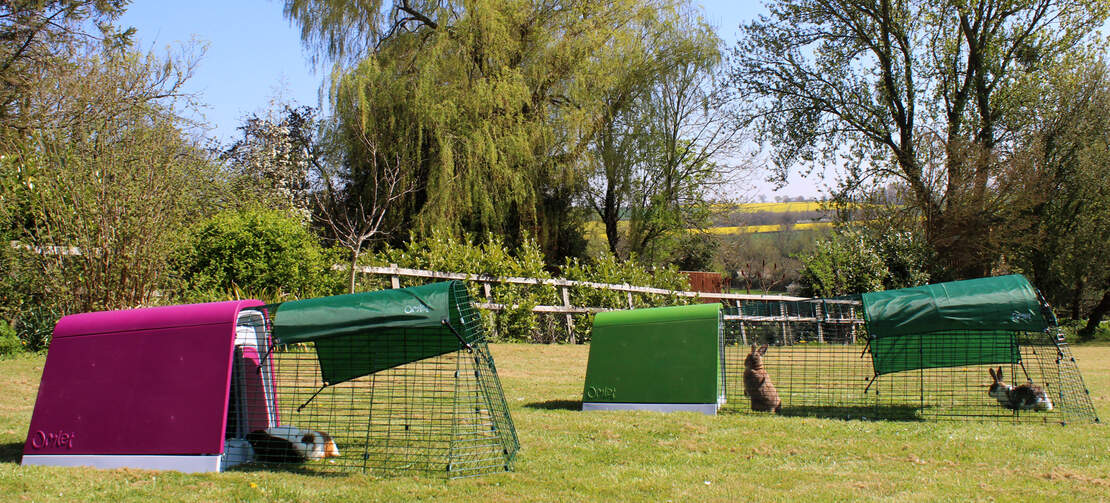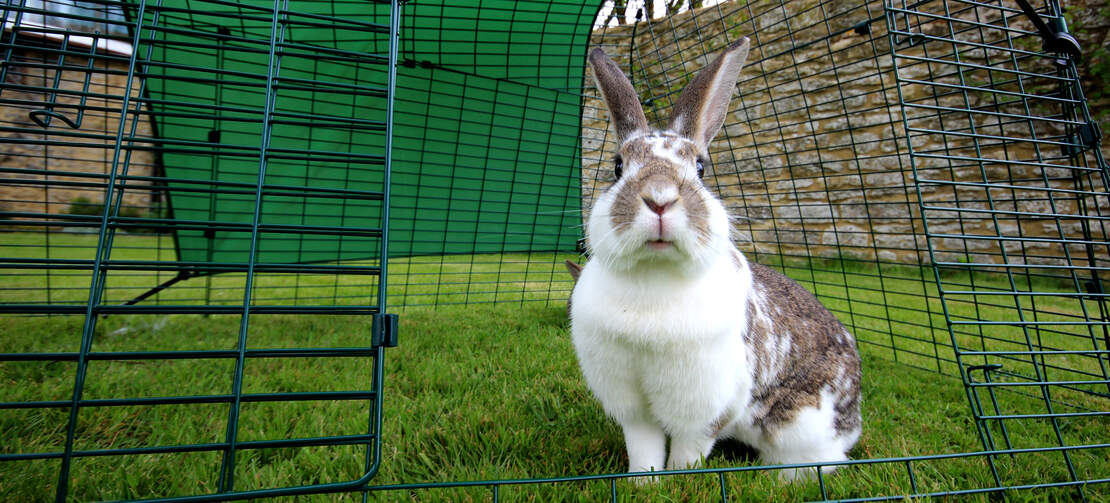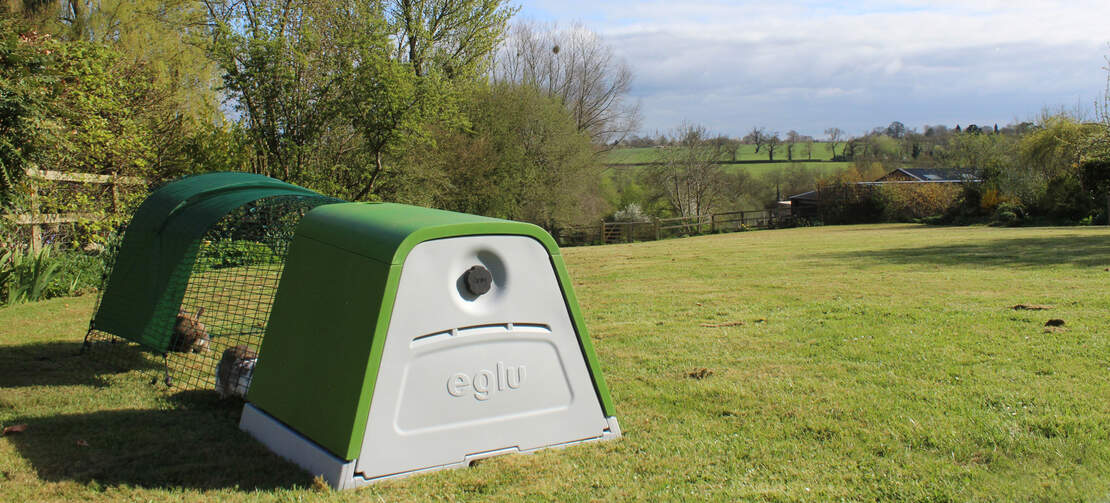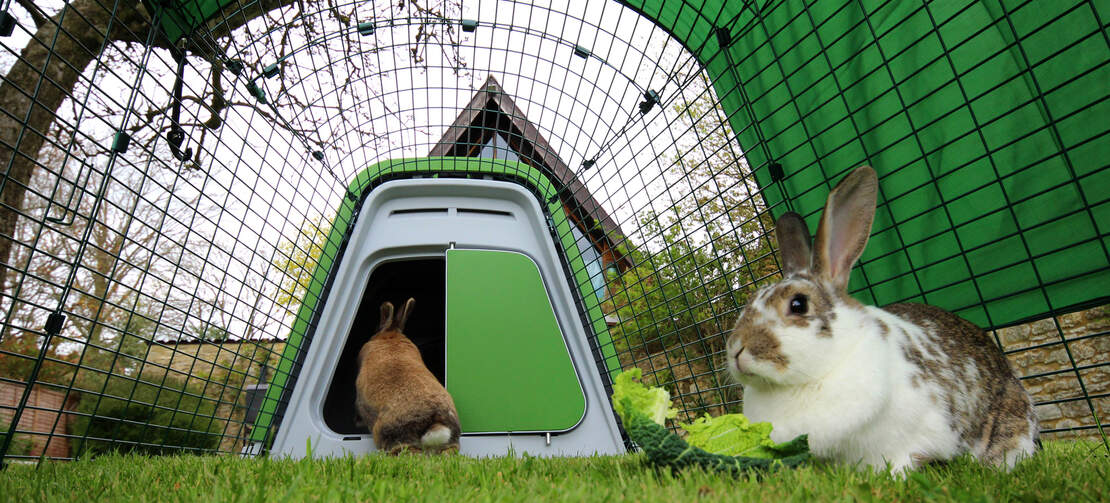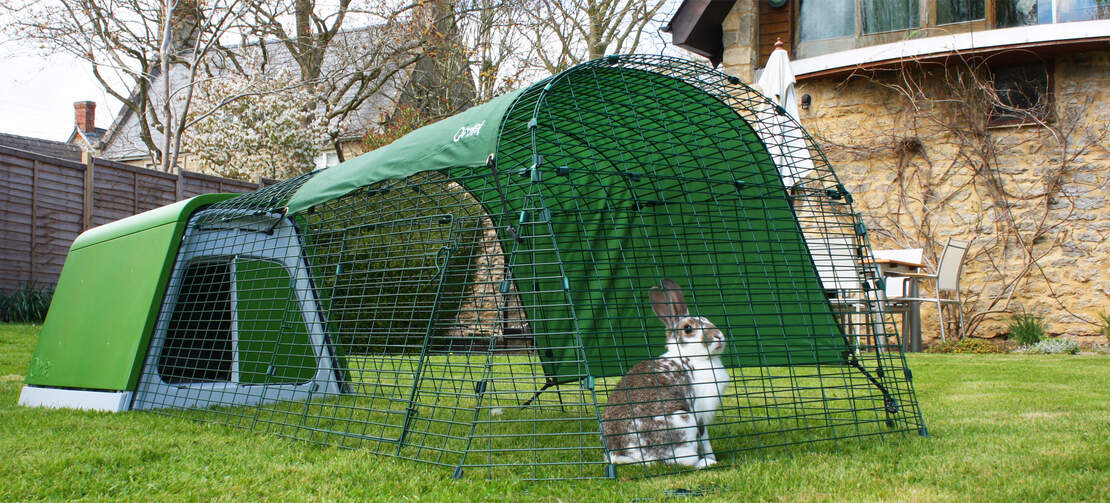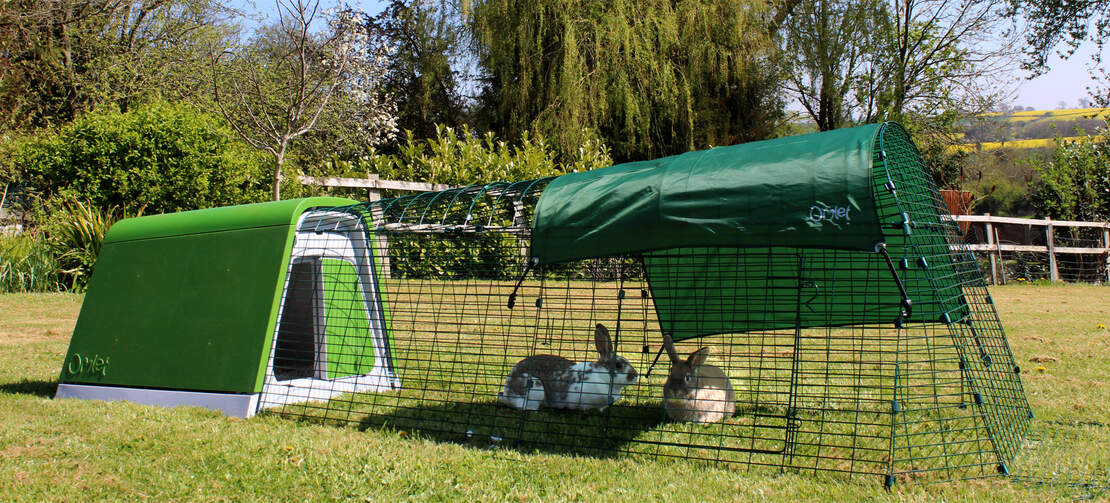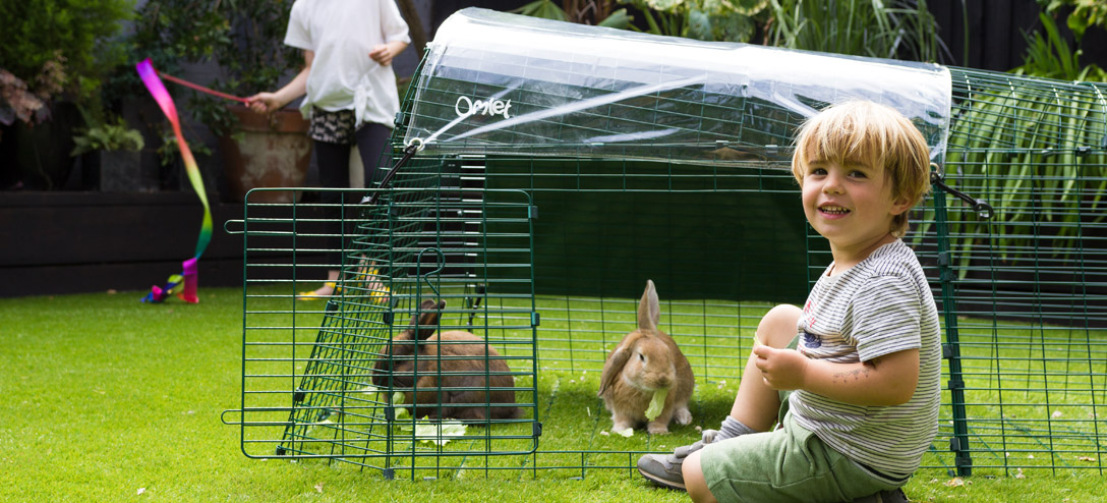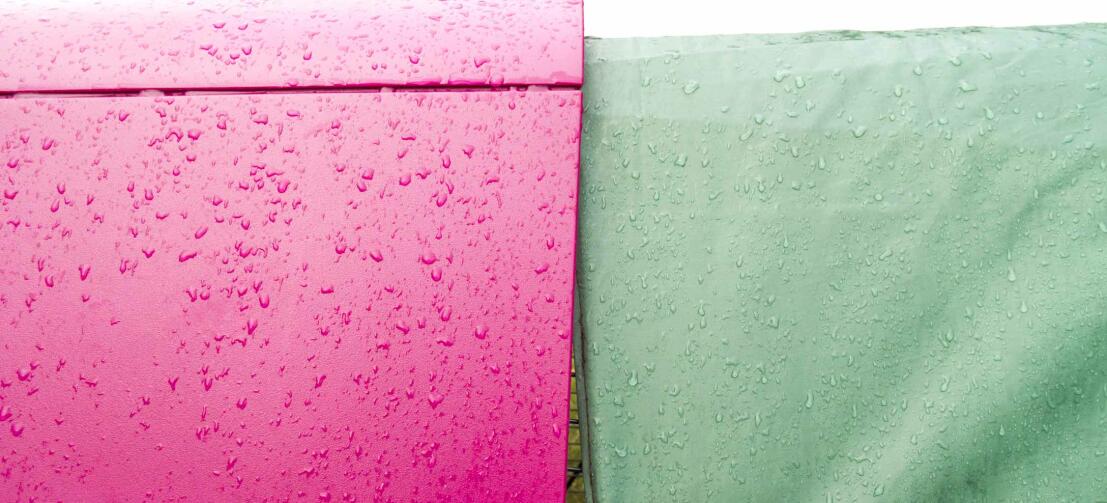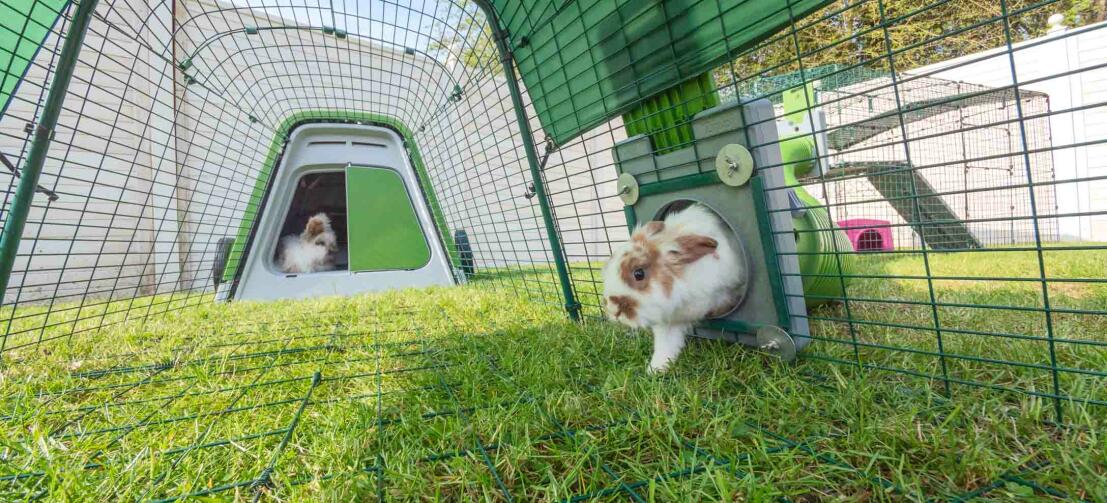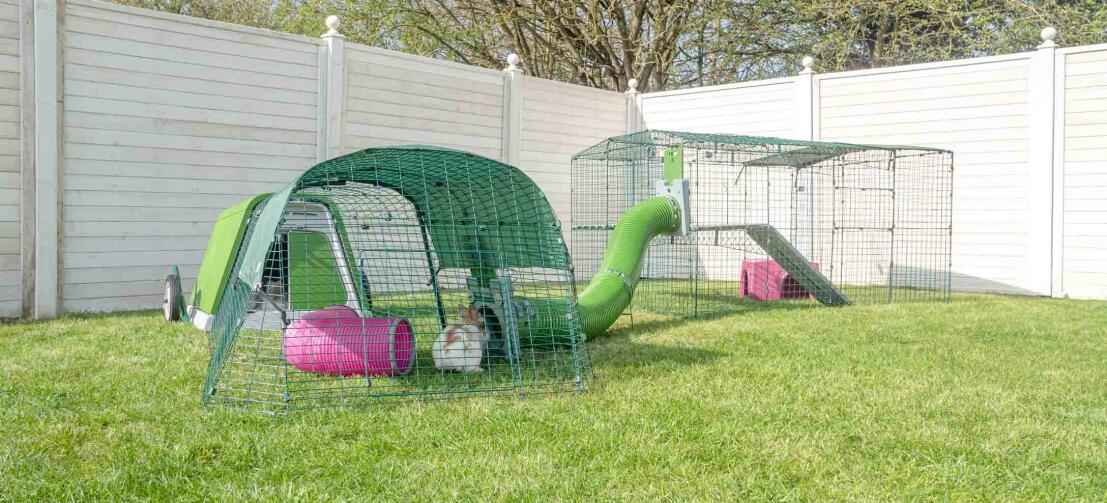 Configure Now

Could not load configurator. Refresh the page to try again.
6 Reasons To Buy From Omlet

180 Day Money Back Guarantee

Free Returns

2 Year Warranty

Brilliant Customer Service

Secure Payment

Over 17,000
5 Star Reviews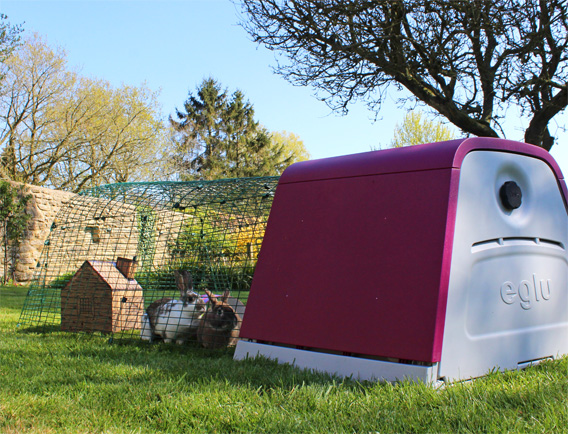 Rabbits sitting in the Eglu Go Hutch rabbit run
A Happy Hutch for Rabbits
The Eglu Go Rabbit Hutch is the simple, stylish, straightforward way to keep pet bunnies. Suitable for two medium sized rabbits, this will make a wonderful home for your new friends. It has been designed to enable pet rabbits to express their natural instincts, offering them a fun environment that will make them feel really at home.
The Eglu Go Rabbit House offers two main areas for your pet to explore. The colourful hutch is a wonderful hidey-hole to eat, sleep and snuggle up in, and the secure 2m run is perfect for enjoying a hop around and some fresh air. The biggest benefit of having a hutch and run in one is your pet's freedom to go in and out as it pleases, according to its own routine. As a result, your pet will be happy, relaxed and easier to handle.
Low Maintenance Rabbit House
Keeping the Eglu Go Hutch in order is easy thanks to its clever design. This rabbit house has wipe-clean surfaces and a slide-out bedding tray to make it easy to clean, and, made from energy-efficient polymers, it never needs to be treated. It is a hygenic home for your pets, naturally weather resistant, and at the end of its life it can be recycled.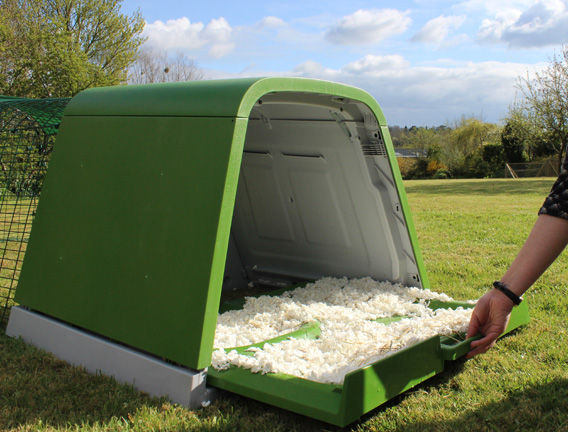 Removing the Eglu Go Rabbit Hutch bedding tray
Easy To Clean Plastic Hutch
Cleaning the Eglu Go Rabbit Hutch is a doddle, and just a few minutes each week will keep it looking (and smelling) smart and fresh. The large door at the back allows easy access to the house, and the slide-out tray makes it quick to change your pet's bedding. The droppings make a great fertiliser for your plants, just add them to your compost bin. The Eglu's smooth plastic surfaces do not absorb moisture, making it more hygenic than a wooden hutch, and it can be washed all over with a quick blast of a hose or pressure washer. Easy!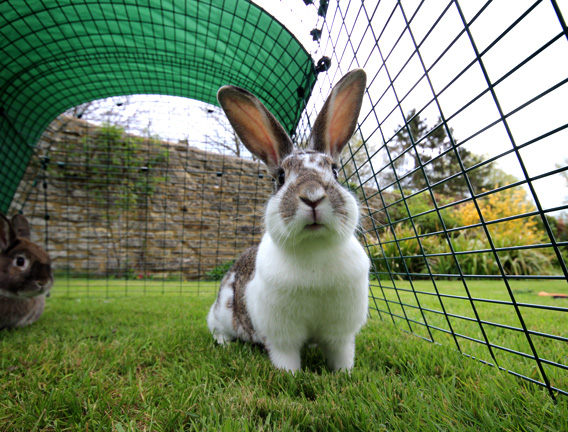 Inbuilt wire base to prevent tunnelling from inside or outside the run.
The Fox Resistant Rabbit Run!
The Eglu Go Rabbit Hutch comes complete with a 2m run, suitable for two medium rabbits to hop around in. Made from strong, steel weld mesh, it is virtually impossible for predators to break, and a unique anti-tunnel skirt sits flat on the ground to prevent animals from digging in. You will also receive a large piece of Rabbit Underfloor Wire to place under the run which will prevent your rabbits from digging out. The unique tunnel-proof panels have been proven in rigorous testing to be fox and badger resistant, so you can be sure that your pets are safe even when you are not at home.
The run comes in sections for easy transportation and storage, and it can be put together in minutes. Once assembled, you'll find that it really looks the part, with a dark green coating that blends into the garden beautifully. The run has spacious vertical sides, increasing in width to 125cm and reaching a height of 80cm at the end, giving your pets plenty of room to stand upright, and the run door can be opened to stroke, feed, or lift your rabbits out regularly.
Please note that we are currently sending out two types of underfloor mesh, so depending on the size of the run you choose there is a possibility you might receive two different types of mesh. This will not affect the structure of the run or the way your pets use it. If you have any questions, please don't hesitate to contact our customer service team.
Topping up the rabbit food bowl in the Eglu Go Rabbit Hutch
Innovative Feeders
The Eglu Go Rabbit Hutch comes complete with a hay rack, feed bowl and water bottle. The hay rack is mounted on the inside of the removable back panel, making it quick and easy to fill or remove. This is very handy as rabbits are herbivores, and they will munch through a lot of hay (in fact, it should form the main part of their diet).
Water is very important to pets too, and the water bottle fits into the hay rack inside the house. Keeping the water in the Eglu rabbit house means that it is protected from direct sunlight, reducing the formation of algae, and the water is unlikely to freeze during winter due to the insulation of the house.
The stainless steel dish can be placed inside the Eglu, or in the run, and it is ideal for filling with dry food or fresh vegetables. Yum!
Easy Access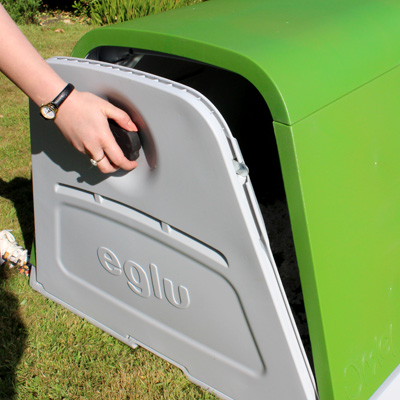 The Eglu has a single large door at the back which can be opened to reveal the bedding tray and access the hay rack and water bottle.
Bedding Tray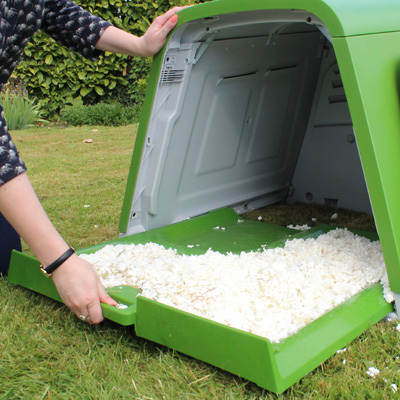 The removable bedding tray can be slid out quickly to clean out, re-fill or top up the stainless steel treat bowl.
Front Door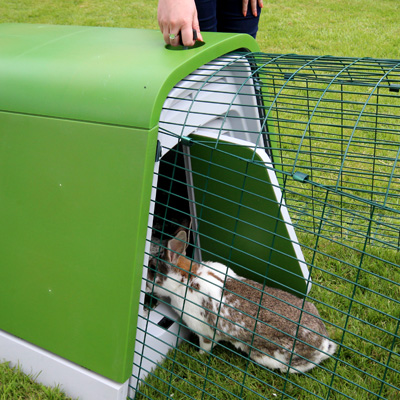 The easy-to-use front door makes it easy to keep your pets in the run when you want to clean the house and vice-versa.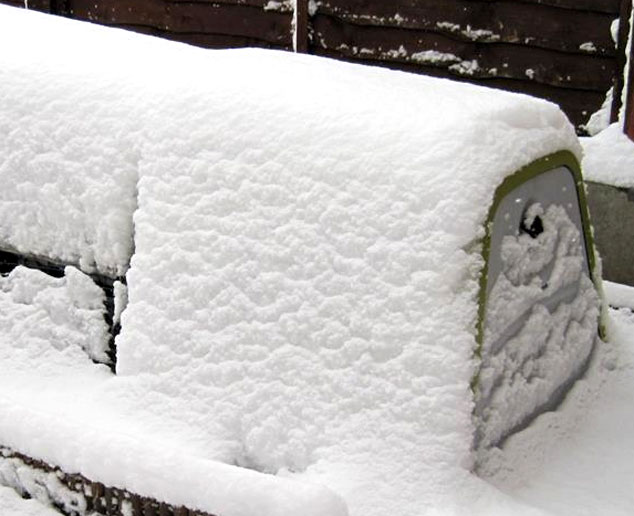 Twin wall insulation to keep pets warm in Winter
Keep Rabbits Warm in Winter...
The Eglu is specially designed to keep your pet rabbits warm in the winter. Its unique twin-walled insulation system works in a similar way to double glazing, trapping a pocket of air between layers to keep the house well insulated.
...and Cool in Summer
In the unlikely event that we have a sweltering summer, you can be safe in the knowledge that your bunnies will be kept cool in the Eglu. Its draught-free ventilation system allows fresh air to circulate whilst preventing air from blowing directly over the bedding area.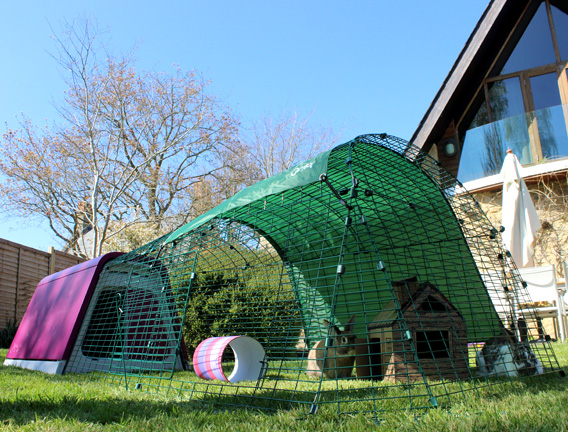 The Eglu Go Rabbit House in a garden
The Perfect Hutch for Every Garden
The Eglu Go Hutch has a rabbit run large enough to give your pets the exercise they need to develop strong bones and stay fit and healthy, and they will love being able to go in and out of their house as they please. Unlike other runs, this comes with an anti-tunnel base, so your pets won't escape, and your garden will remain intact.
Although grass is great for rabbits, it is possible to keep them if you don't have a lawn. You can keep the Eglu on a patio area, but you should provide them with a deep sand box to dig in.
Free Extras with the Eglu Go Rabbit Hutch
When you buy an Eglu Go Rabbit Hutch you will get these great accessories absolutely free! Not only that, we're so confident you'll love everything about the proudct that we offer a 180-day, no-quibble money-back guarantee.
Hay Rack and Water Bottle
A bespoke hay rack which attaches to the Eglu and a 600ml water bottle which slots in.
Stainless-Steel Bowl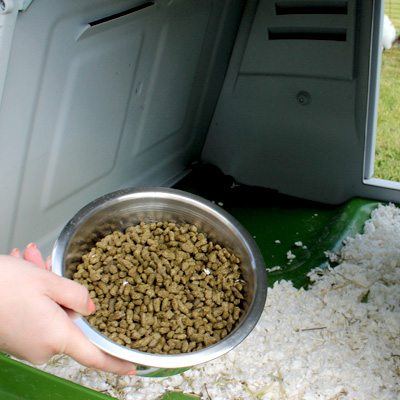 A stainless steel bowl that can be filled with dry food or crunchy vegetables for pets to gnaw on.
Years of Fun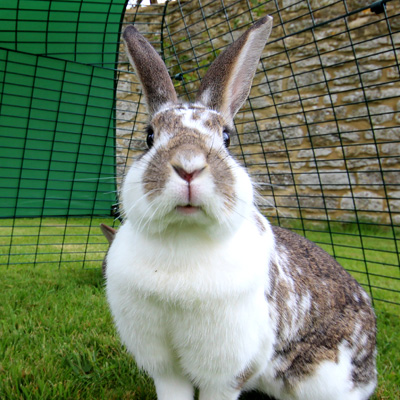 Rabbits make wonderful pets and the Eglu Go Hutch makes keeping them fun and easy. Happy pets and happy owners all round!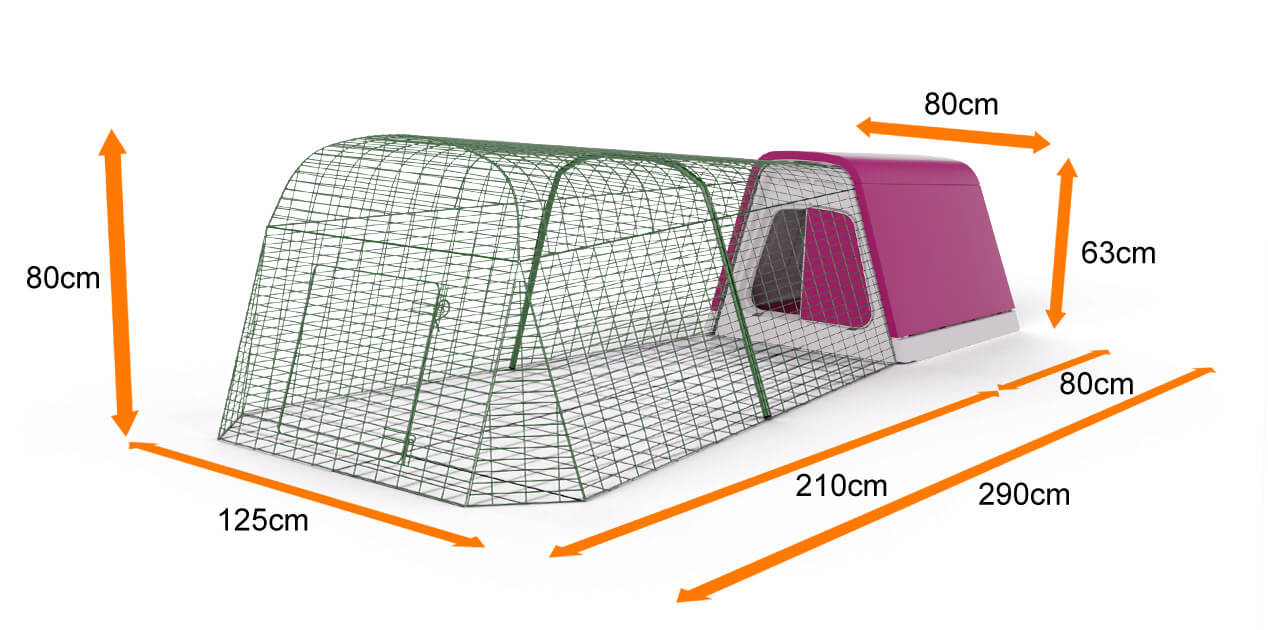 Eglu Go Rabbit Hutch Specifications
Eglu Go Rabbit Hutch Specifications
The Eglu Go Hutch is suitable for two medium sized rabbits.
Materials:
House: 100% Recyclable UV Stabilised Polyethylene
Run: Double layer fully coated steel weld mesh
Packaging Dimensions:
House: 74cm x 41cm x 81cm (20kg)
Run: 70cm x 24cm x 96cm (15kg)
Patent Pending. Design Registered.
---
Frequently Asked Questions
Verified Reviews - Eglu Go Rabbit Hutch
---
Customer Images - Eglu Go Rabbit Hutch - 29 of 102
Related Products