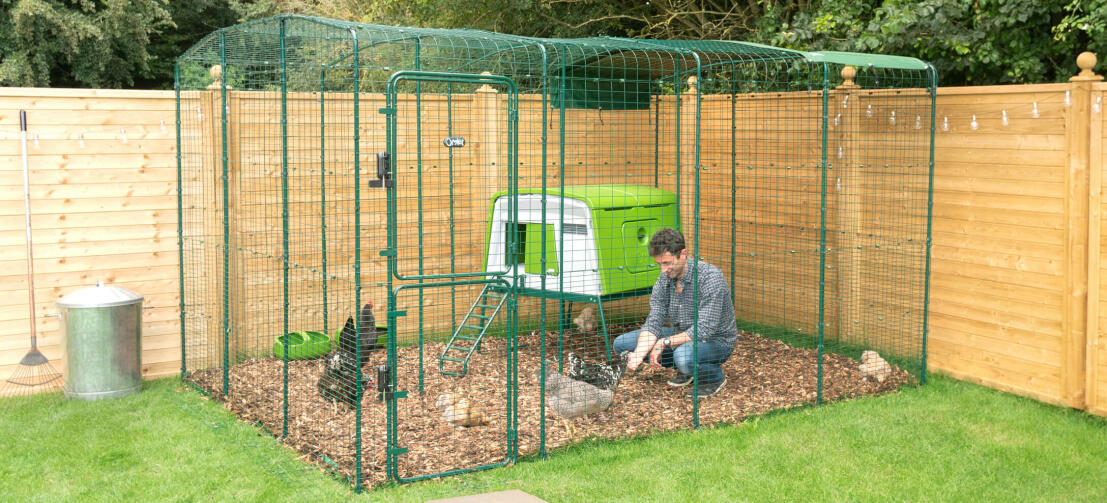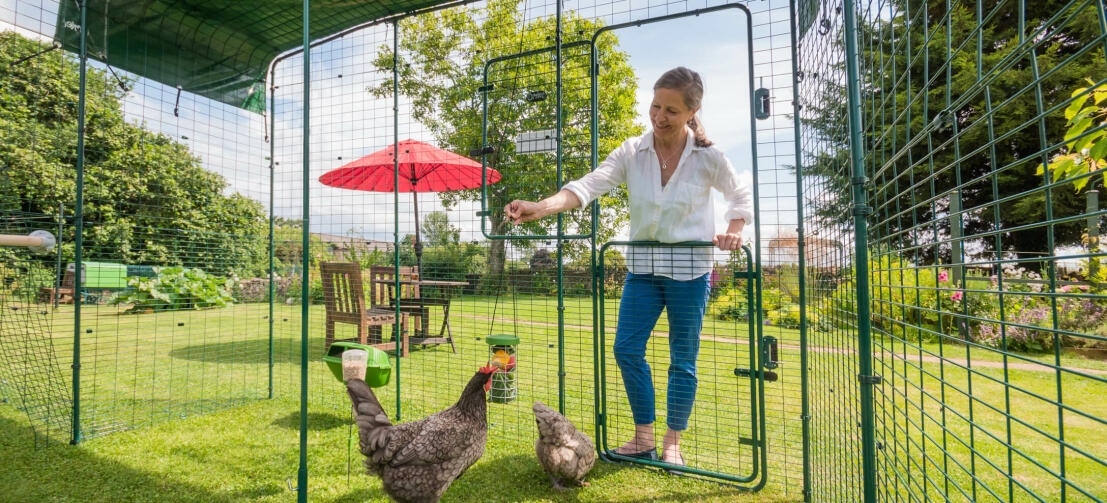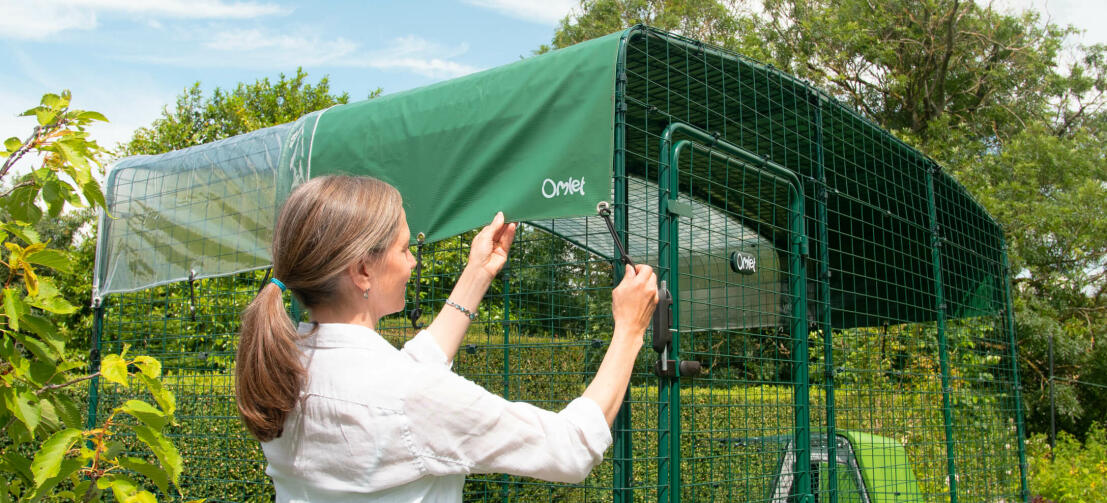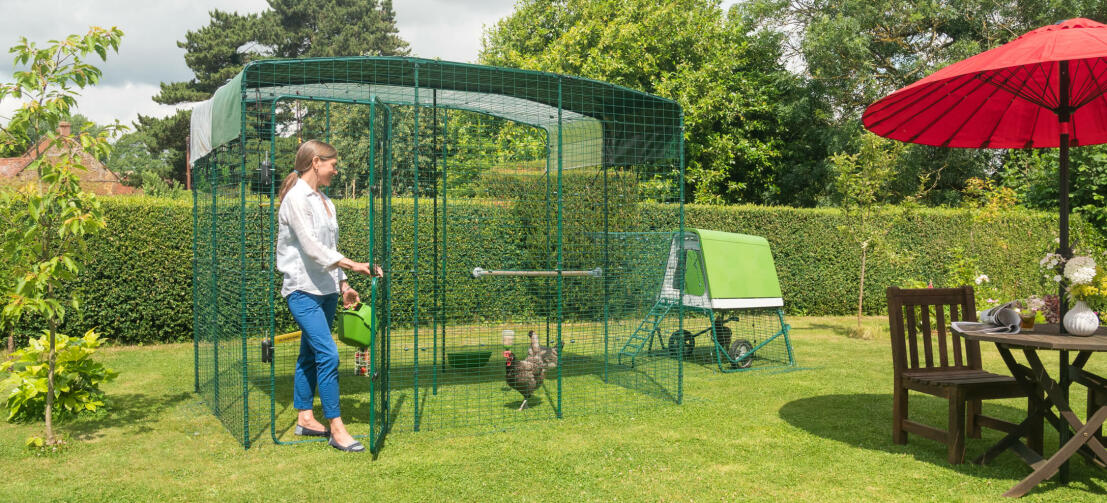 Omlet Walk In Chicken Run Extensions

Could not load configurator. Refresh the page to try again.
If you're extending a single height run to a double height, please get in touch so we can make sure you get the right door for your run.
Give Your Hens More Space to Explore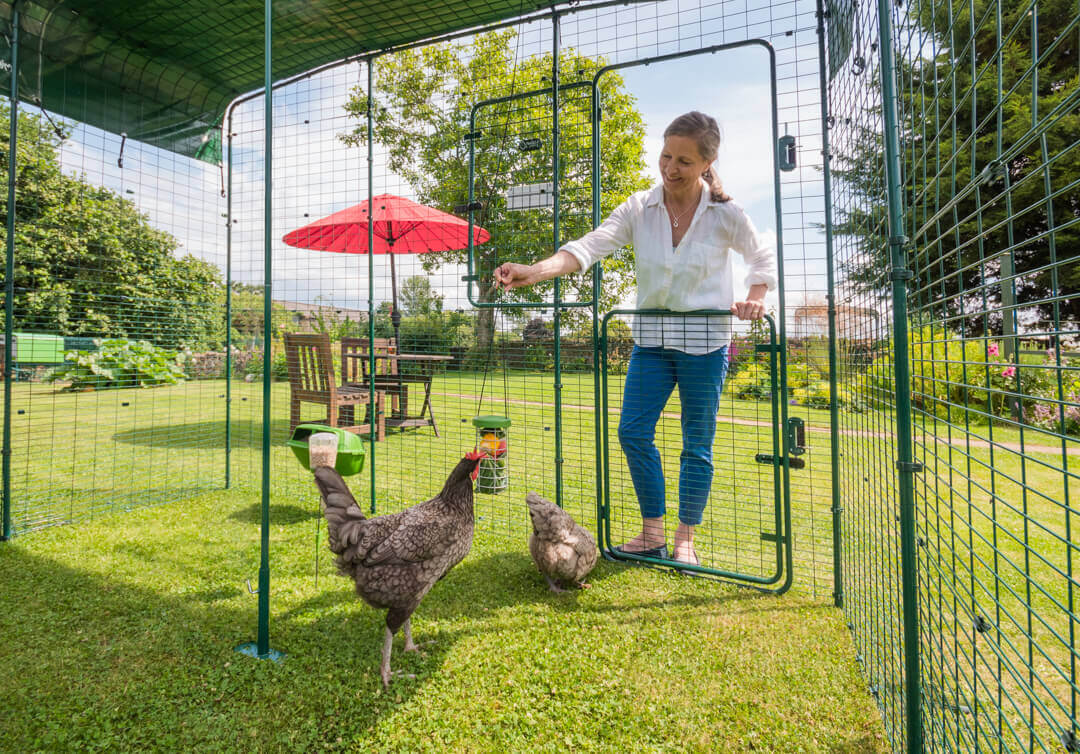 With the easy to add extension panels, you can make your chickens' run bigger whenever you want
Give Your Hens More Space to Explore
Thanks to its modular design, it's easy to adapt your Walk In Run as your flock grows, or you just want to give your hens a bit more space. The extension panels arrive flat-packed with a clear instruction manual. You can also use our step-by-step how to build videos to guide you through adding more sections to your run.
A full height run can be two sections high and three sections wide, but there is no limit to how long you can make it. A half height run can only be two sections wide, but again can be extended length wise.
Please note that these extensions are not compatible with runs bought before 2014.
New Mesh Design for 2022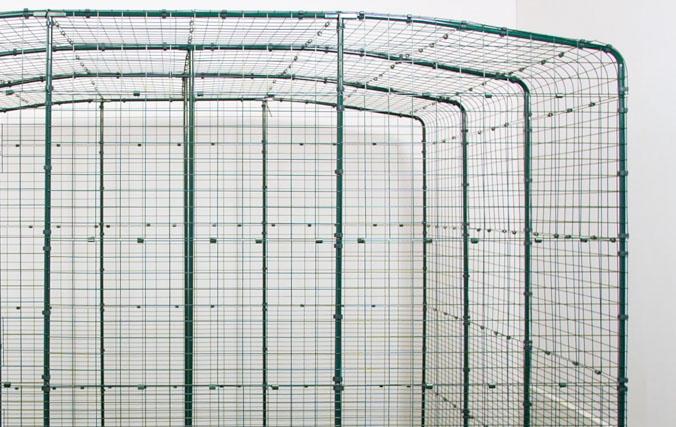 Each mesh panel now arrive as two pieces instead of one, attached together with run clips.
New mesh design for 2022
The Walk in Run has a new design! The mesh panels will now arrive as two pieces instead of one, attached together with run clips. The stability and integrity of the run is unchanged, and the assembly process remains the same, the new design just makes it quicker and easier for the product to be shipped straight to your garden.
Please contact our customer service team if you have any questions.
Frequently Asked Questions
Which size chicken run should I get?
The size of run you need depends on how many chickens you have, the size of your chickens and how much they are allowed to roam free outside the run. Always aim to give your chickens as much space as you can, either by letting them free range in the garden/backyard or by extending the run. If you're having troubles deciding on what run size to get, feel free to contact our customer services team who will be happy to guide you!
Can I place the door anywhere on the run?
Yes, the door can be positioned anywhere on the metal Walk In Chicken Run, apart from right next to an attached Eglu.
How many covers do I need to cover the roof of my run?
This depends on the size of your run. The covers are wide enough to stretch over one section of your run, so if your run is two sections wide you will need a 2m cover times however long your run is. If your run is three sections wide, you will need a 3m cover times however long your run is.
Can I attach the run to a coop or a building?
The Walk In Run can be attached to your house or another building, you can see examples of how other customers have done this in the customer images below. We do however not currently have a ready made solution for this, so we recommend you speak to a DIY specialist to make sure it's done safely.
All of the Eglu chicken coops can be attached to a Walk In Run using a connection kit. For the Eglu Cube and Eglu Go UP, you need to have a 6 ft. run or longer in order to attach the coop. If you have another type of coop it will be possible to attach it, but again you should consult a specialist.
Can I keep the run outside all year round?
The metal chicken runs are designed to be used outdoors for years to come. However, we recommend that you check the run regularly for signs of corrosion, especially if you live somewhere with extreme weather conditions or close to the sea. Corrosion will occur if the coating has been scratched or scraped for example. If you do see some, remove any loose rust and touch up with a weather resistant paint.
If you have covers on your run and experience heavy snowfall it's advised you clear the snow off the roof to avoid the panels being damaged from the weight.
Can I keep chicks in the run?
You should wait until the chicks are at least 6 weeks old before you take them outside. It might be a good idea to keep them separate for the first week so they can get used to being outdoors before having to interact with the rest of the flock, but this depends slightly on the breed and your setup. If it's cold and wet you might want to wait a bit longer before you introduce them to the outside world.
Is the run predator proof?
While the strong materials and thought out design make it extremely hard for predators to get to your pets, no run is 100% predator proof.
If you live in an area with lots of predators, including smaller animals like martens and weasels, you might want to consider adding additional protection to the run.
What are the dimensions of the mesh?
The lower half mesh is 25 x 75mm, and the upper half mesh and the roof panels are 50 x 75mm.
Omlet Walk In Chicken Run Extensions
Our Eglu Cube with added 3ft run was just too cramped. It was nearly impossible for me to get in & out because of arthritis in my knees. We got the 6ft x 6ft Walk In Run and now I can change water and fill the feeder with ease. AND our small flock has much more space.
Review for:
Walk in Chicken Run - 2 x 2 x 2
This reviewer has 2-4 Hyliner Hybrid chick pets
I have never felt such peace of mind knowing my girls are in this run when I'm not there. It's large enough for them, secure and easy to set up and adapt. I'm not sure who loves it more, me or them… probably me, it's great
Review for:
Walk in Chicken Run - 2 x 2 x 2
This reviewer has 4-6 Polish, legbar, skyl pets
Solid product , good customer service. Was able to assemble by myself (it is easier if you have a friend) . Nice and solid to help my chickens and Dogs safely dwell
Review for:
Walk in Chicken Run - 2 x 2 x 2
This reviewer has 2-4 Light Sussex, Austra pets
I have the chicken run for my runner ducks. We do not have and Omlet house because the door is not tall enough but the house we have fits in and we have a food and drink feeder. It's great to be able to walk in to the run for cleaning. On one occasion we made a cover from a tarpaulin and it blew over so we bought a small cover and it works well.
Review for:
Walk in Chicken Run - 2 x 2 x 2
We live on the side of our mountain in Wales. We have so much wildlife around at all times, so when we looked into rescuing chickens, we had to be certain we could supply them with safety. Our Omlet pen is the best way to make sure our girls are safe and protected, but most of all happy! Honestly, my oartner us like a kid in a sweet shop when he goes on the Omlet site???? You literally get what you pay when buying anything. The walk through pen is easy to assemble, sturdy and can be extended, which I have to do next! Excellent value for money, peace of mind, highly recommended and 'Just perfect x
Review for:
Walk in Chicken Run - 2 x 2 x 2
This reviewer has 8-10 Rescue hens pets
Read more reviews