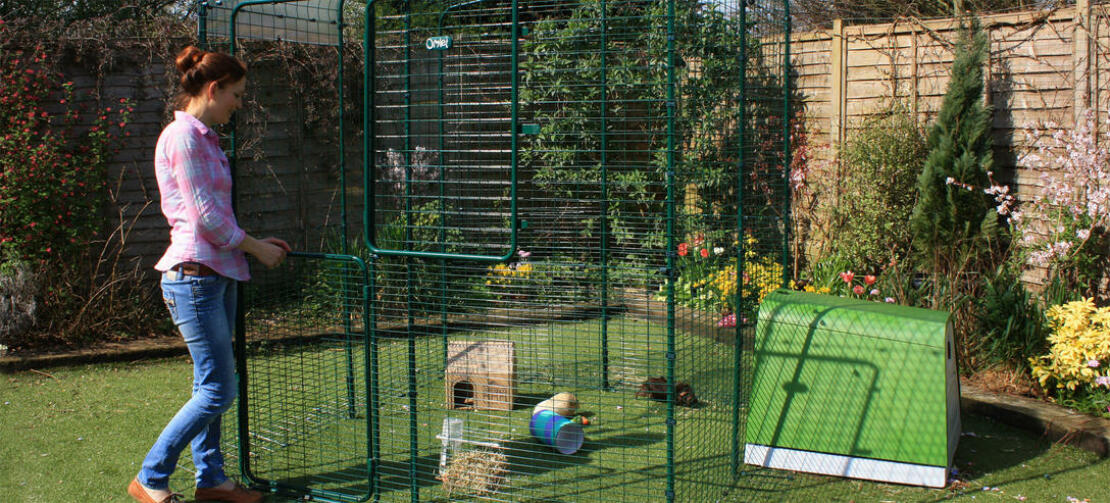 Omlet Outdoor Guinea Pig Run Extensions

Could not load configurator. Refresh the page to try again.
If you're extending a single height run to a double height, please get in touch so we can make sure you get the right door for your run.
If you have underfloor mesh on your current run and would like it for the new sections as well, you will find underfloor guinea pig run mesh here. One underfloor panel corresponds to 1 width and 1 length section of the enclosure.
Please note that we are currently sending out two types of underfloor mesh, so there is a possibility you might receive mesh that looks different from what you currently have. This will not affect the structure of the run or the way your pets use it. If you have any questions, please don't hesitate to contact our customer service team.
New Mesh Design for 2022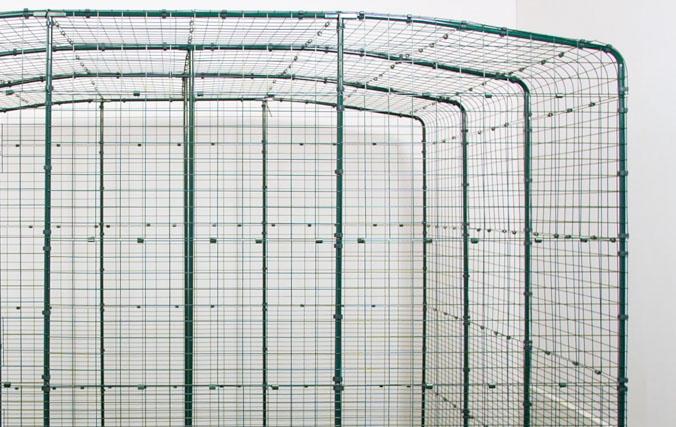 Each mesh panel now arrive as two pieces instead of one, attached together with run clips.
New mesh design for 2022
Omlet's Outdoor Rabbit Run has a new design! The mesh panels will now arrive as two pieces instead of one, attached together with run clips. The stability and integrity of the run is unchanged, and the assembly process remains the same, the new design just makes it quicker and easier for the product to be shipped straight to your garden.
Please contact our customer service team if you have any questions.
Omlet Outdoor Guinea Pig Run Extensions
Omlet great for pocket pets
I have had the pleasure of the company of a number of Guinea pigs and rabbits who have lived in a number of different homes we have made or purchased. The Eglu Omlet homes are by far the absolute best! Easy to clean, move, and provide water, food. The system is superb. The stress of the hot and cold weather is also manageable with the insulated house, covers and open runs. Our Guinea pigs have never been so peaceful and friendly. Instead of hiding, they confidently move around the enclosure, come up to the wire to chat, and generally enjoy the large open space. The tunnels are a favourite for both Guinea pigs and rabbits. Our Flemish giants fit through the tunnels with ease. We are all so very grateful for such incredible design and options. The accessories sold separately keep the old Eglu hutches new with clean bottles and new covers.
Review for:
Outdoor Guinea Pig Run - 3 x 4 x 2
This reviewer has 8-10 Guinea pigs and Flem pets
We have the 6x9 run for guinea pigs and we LOVE it. It is time consuming to put together, but using zip ties in lieu/as well as the removable brackets they give you will speed things up considerably. I like the clear covers for winter but the darker covers for summer so it doesn't get too hot. Things to note: • This has a "skirt" that goes on the ground to keep predators from digging under. I am not sure if this would be enough if you had a motivated fox. Our run is inside our garden which is surrounded by no climb horse fencing. On the outside of the garden fence, there's electric chicken netting. So we are unlikely to have a predator issue inside this area. But I would have done further predator-proofing if I was placing this in another area. • I purchased the Eglu and connector so the guinea pigs would have a warm zone to go if the weather gets cold (we're in Maryland). • The Zippi platforms don't work with this- I wish they did! • The roof is strong, but it's not strong enough to hang a waterer from (I wouldn't attempt to do this). If you have a heavy snow load, you'll probably want to brush some of the snow off. We don't get much snow so I haven't tested this yet.
Review for:
Outdoor Guinea Pig Run - 3 x 4 x 2
This reviewer has 6-8 Guinea Pigs, 7 pets
Our Guinea Pigs love their new home!
Would of given 5 stars but the price is abit more than we feel should have been!! But overall very happy :) We are really pleased with the new outdoor run (6x6), our 2 girls love it. They are so much happier roaming free. We have our girls indoors in the winter in a different hutch and outside in the summer. We took the plunge and brought after some umming and arring (it was way more than I originally intended to spend) but it has been well worth the money and all the other hutches dont look half as safe. We ended up buying the pegs to go around the edge and they makes it feel more secure. We have loads of cats and foxes in our area, so its been great peace of mind to leave them all day and not be worried something will get in. We brought some waterproof tarpaulin from ebay £15 3m x3m which works a treat and keeps the cage inside warm and shelters them from direct sunshine. The only fault we had was the clips that connect the Omlet together are made of plastic and we feel they may not last that long. We are thinking of buying an extension upwards (at the moment we have to crawl in and out) so we can stand up!
Review for:
Outdoor Guinea Pig Run - 2 x 2 x 1
This reviewer has 2-4 Guinea Pigs pets
I could not be happier with this run. My 3 piggies are like new. I had them in a large indoor cage but had no idea that this extra space would make them so happy and active. They kick their heels and run around and around. They can't wait to go out in the morning and they give me such a run around at bedtime to avoid going back in, that I usually give in and it is well after dark by the time I insist. I am nervous but may leave them outside all night when we have another spell of good weather. The basic run is a great size but I love having the flexibility to add extra sections and height, and its sturdiness and skirt makes it feel so safe. It is great to sit in with them while they pootle about and from the house we can see them running round and round the house I have put in the middle for them. I had no problems assembling it and could not recommend this run more highly. It is worth every penny and I can see no reason why it should not last forever.
Review for:
Outdoor Guinea Pig Run - 3 x 4 x 2
This reviewer has 2-4 Guinea pigs pets
We show and breed guinea pigs. Had select monitored days before that we would let them out to play in a pen on the grass. The guinea pig loves loves being outside. I bought the Omlet 9x12x6 walk-in run for our 10 girls to stay outside year round. Spring summer fall winter. You read that right! Built an insulated outside house for them added an Omlet tunnel for their door. Over top there is a clear tarp that keeps the rain/snow mostly out of immediate walking area. Inside the run, I use hemp on the ground. Hemp helps wick moisture away. Keeping their walking area dry. Guinea pigs are very good at keeping warm. Need help to keep cool. We have rent-a-coop 5-gallon water bucket modified for their water (heated in winter) their pellets are outside in a big bowl. Pellets kept topped off daily. Fresh grass and clean hay provides daily. We've had hawks and owls come down to look at the run but as yet have not figured out how to get the occupants. Everyone was dry and warm over winter. We have very happy retired sows and grow-out sows. Awesome product.
Review for:
Outdoor Guinea Pig Run - 3 x 4 x 2
This reviewer has 8-10 American Abyssinian pets
Read more reviews