Coop Light - Automatic Chicken Coop Door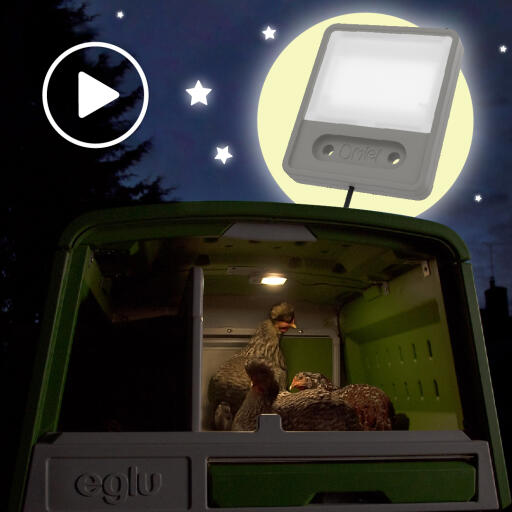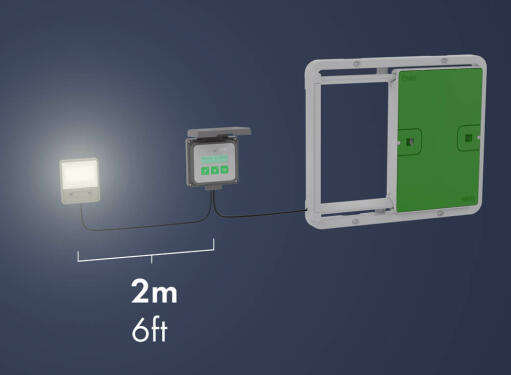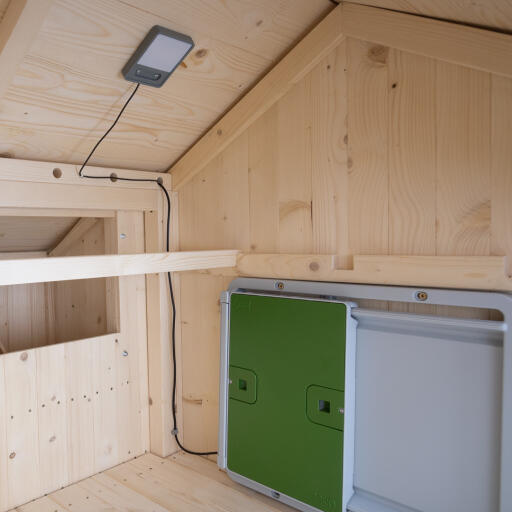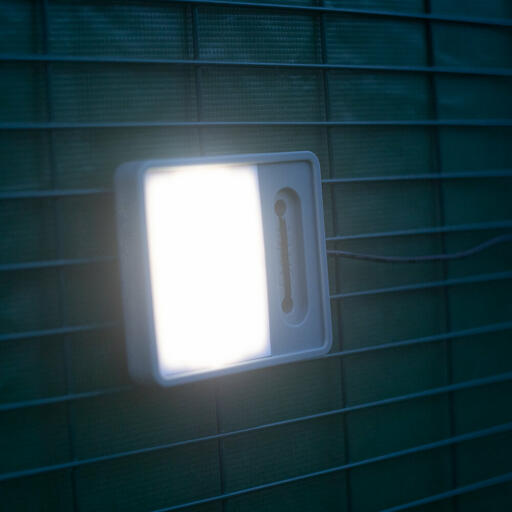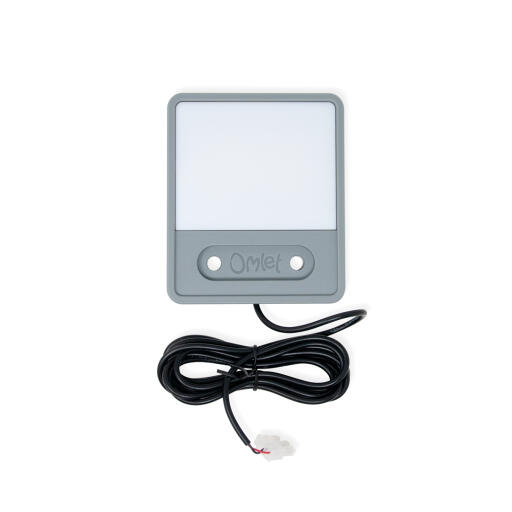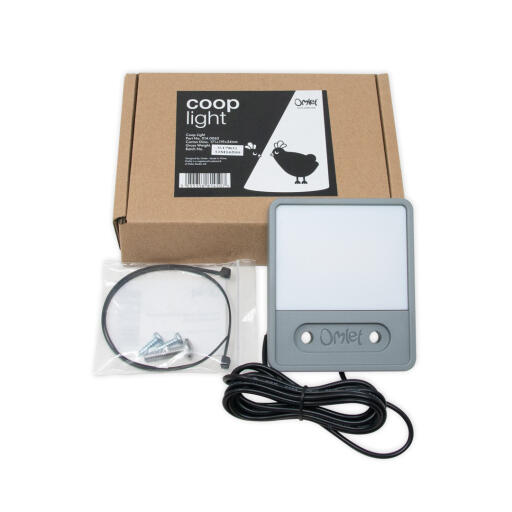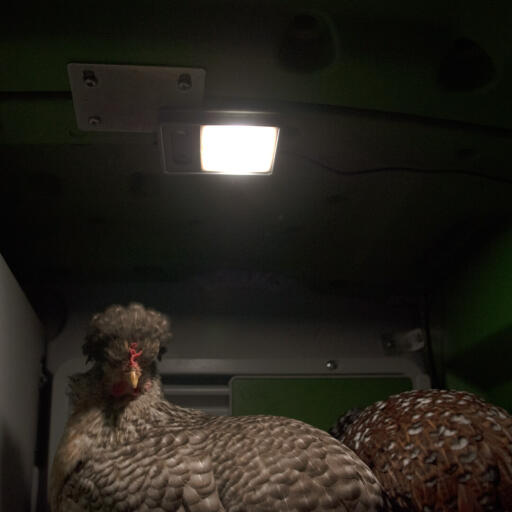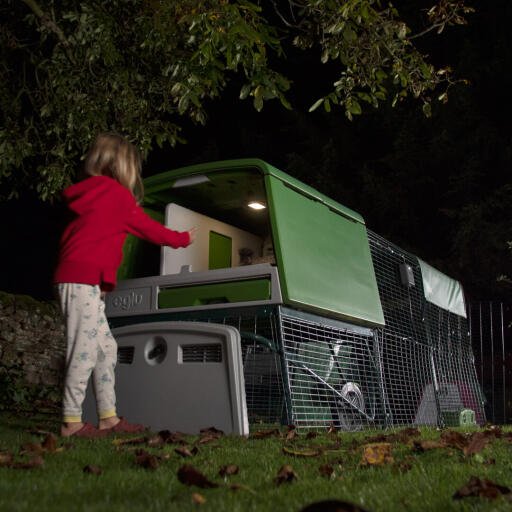 The Coop Light is a wonderfully practical addition to your chicken coop as it helps to encourage chickens to go back into their coop or run when it gets dark. Powered by the control panel, the light will come on at the time or light level you have selected the Autodoor to close at. 5 minutes later the door will close. On both settings the light will turn off when the door closes. The coop light will turn off again automatically 2 minutes after it has been turned on manually.
Another convenient use of the Coop Light is that you can manually switch it on at any time by using the control panel of the Autodoor. This is particularly useful if you get home after dark and need to check that your hens are safely roosting. The coop light will turn off again automatically 2 minutes after it has been turned on mnually.
The light is easy to install and can be attached to the inside of the Eglu Cube (Mk1 or Mk2) or any wooden chicken coop. The light can also be attached to any kind of mesh and if you are using your Autodoor on a chicken run the light can be positioned inside the run instead of in the chicken coop.
The Coop Light comes with everything you need to attach it to your chicken coop or run. Power is supplied from the control panel of the Automatic Chicken Coop Door via a 2 metre long cable, which means that the Coop Light can be positioned up to two meters away from the Autodoor's control panel.
The combined Autodoor and light will have up to 4 months battery life.
Please note that you need Omlet's Automatic Chicken Coop Door to use the Coop Light. You can only connect one coop light to the Autodoor control panel.
For Automatic Chicken Coop Doors bought before April 2023, you will need to power your door by battery in order to use a Coop Light.
Please check the FAQs below for more information.
Coop Light Dimensions: 100mm x 85mm x 15mm
Patent Pending. Design Registered.
€30.00 Inc VAT
Checking stock in our warehouse...
If you would like to be notified when it becomes available, please enter your email address below.
Packed Product Details
Weight: 0.170 kg
Height: 5 cm
Width: 11 cm
Length: 12 cm
Product SKU: 23747
---
Frequently Asked Questions
If you're powering your Autodoor by mains rather than batteries, you will need to make sure you have the right version of the door before you add a Coop Light. The easiest way to do this is to check the control panel. If there is a number (014.0130) in the upper left hand corner of the Warning sticker, you have the newest version of the Autodoor and can use the Coop Light with batteries or the Omlet power supply. If the number is missing, you will need to power your Autodoor by batteries if you want to add a Coop light. Feel free to contact our customer service team if you have any questions.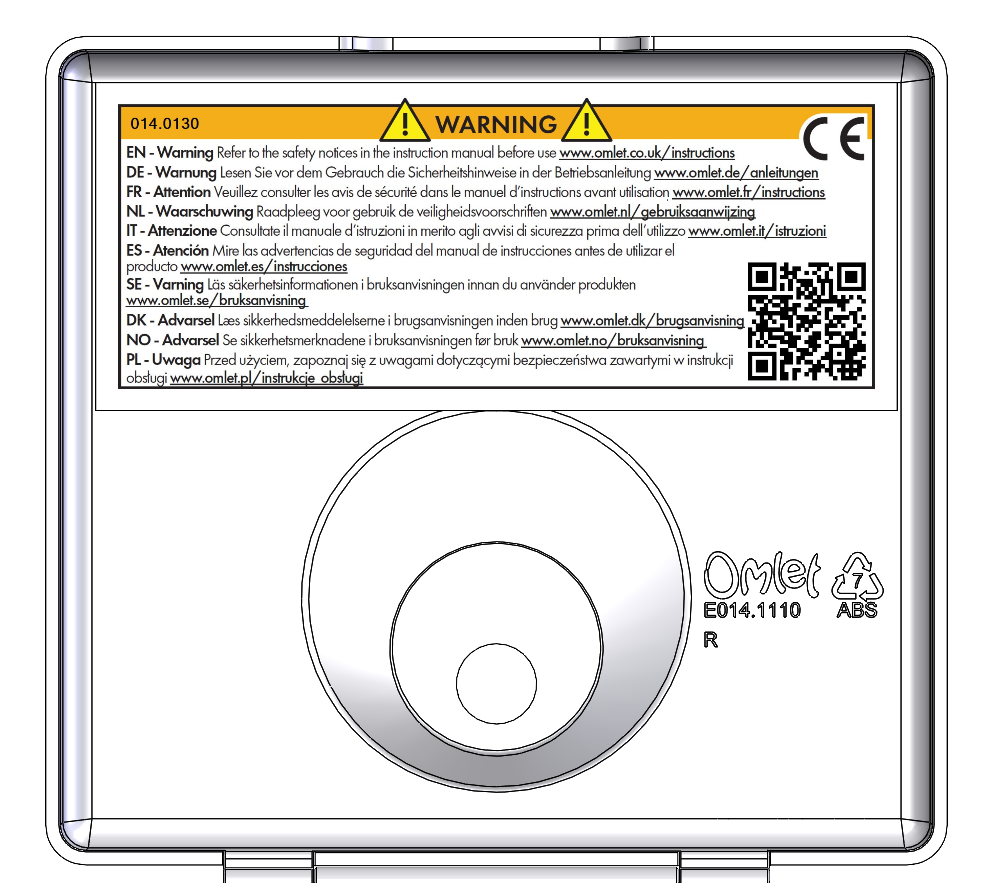 Latest Product Reviews For Coop Light - Automatic Chicken Coop Door
There are no reviews for this product yet. Click the button below to write one.
Write Review
Customer Images - Coop Light - Automatic Chicken Coop Door