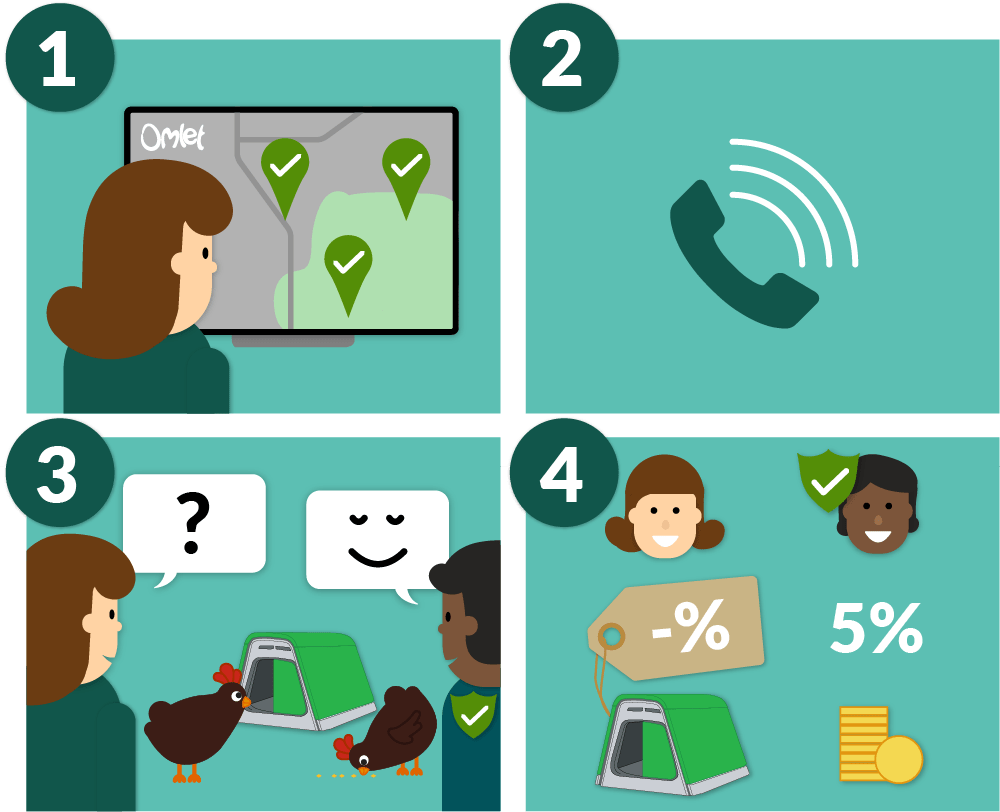 Join the Omlet Family and Become an Omlet Ambassador Today
Get paid to tell people about the Omlet product you love with Omlet's Ambassador Programme!
What is the Omlet Ambassador program?
The Omlet Ambassador programme offers a really easy way for people to ask an Omlet pet owner all about their product either over the phone or to arrange a visit in person like a live, interactive review!
All Omlet Ambassadors appear on a map placed at the bottom of each product page. People interested in seeing an Omlet product in person, before deciding to buy, can request to arrange a visit which you can then accept. Please note - no one will be able to find your actual address from this map - the pin is for illustration purposes only. People will only see your city and county, for example: Dallas, Texas.
What are the incentives for Omlet Ambassadors?
Ambassadors will receive a 5% commission for each sale that results from a call or demonstration. Commissions are paid by bank transfer. Ambassadors will also have a permanent 6% discount on everything in the Omlet shop. On top of that, Omlet customers have found lots of like minded friends through the Omlet Ambassador programme so it's a great way to meet people who share your hobby in the area!
How does it work?
Once someone has requested a visit, you will be emailed each other's contact details (Name, phone number and email address). Normally, the person interested in talking or seeing your Omlet product will contact you but you can of course also contact them first.
Who is admissible to the program?
Owners of an Omlet product are admissible to the program, most coops, hutches, crates and runs are included. Please note we do not accept all applications as places are limited on the programme.
What are the conditions for Ambassadors to claim their commission?
Once you have confirmed the person's call or visit on the dashboard on your Omlet account, they will be emailed an exclusive promo code. If the person makes an order using this promo code, you - the Ambassador - will automatically receive 5% commission calculated on the persons order excluding tax and delivery cost. Ambassadors only get commissions on a person's first order but it's on the entire order not just on the main product that they may have seen. The codes are valid during other promotional events so you never miss out.
When do Ambassadors receive their commissions?
You will have a live dashboard in your Omlet account that displays how much commission you have received as well as past and pending contacts. Commissions are validated 30 days after the order is shipped this is to allow for customers to return products that they are not happy with.
How many visits can an Omlet Ambassador get every year?
It will always depend on the area you are located but Ambassadors can usually expect around 5-10 visits a year but you are of course free to say no to visits at any time and you are also free to encourage people to use the Ambassador service to encourage more visits too! You can do this via your social media or any other communication means you use.
Regulation
Please check with your local authorities the rules related to additional income.
Minimum Age Requirement
Ambassadors must be 18 years or over.
If you believe you have everything it takes to demonstrate the benefits of a product you love, please apply below.