The Omlet Chicken Perch
The Omlet Chicken Perch is a simple and quick way to enhance your chickens outdoor run with a fun and weather resistant accessory.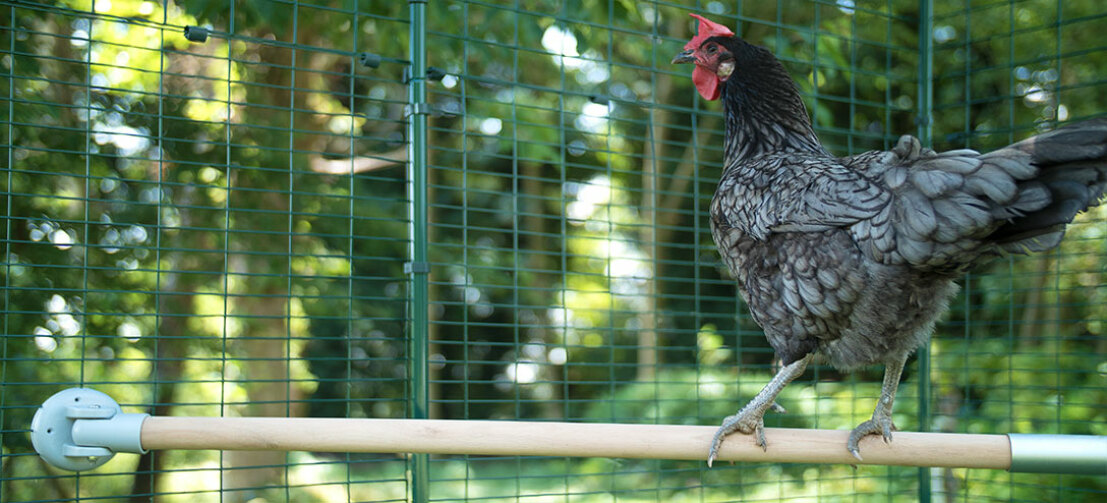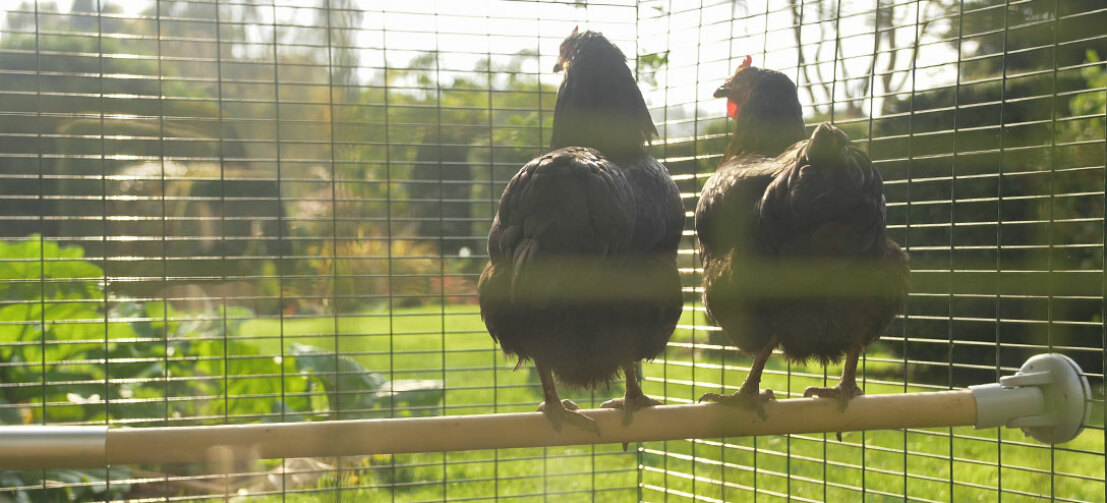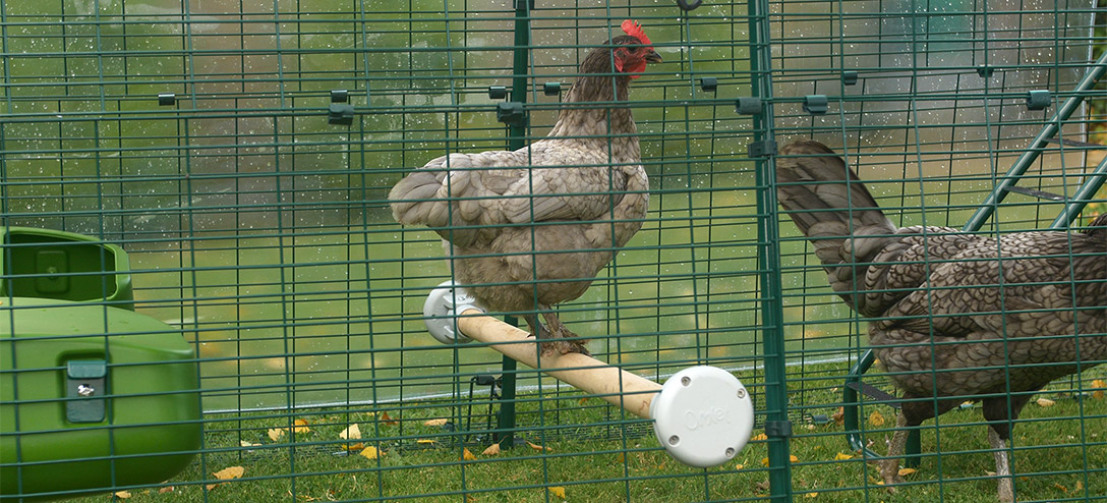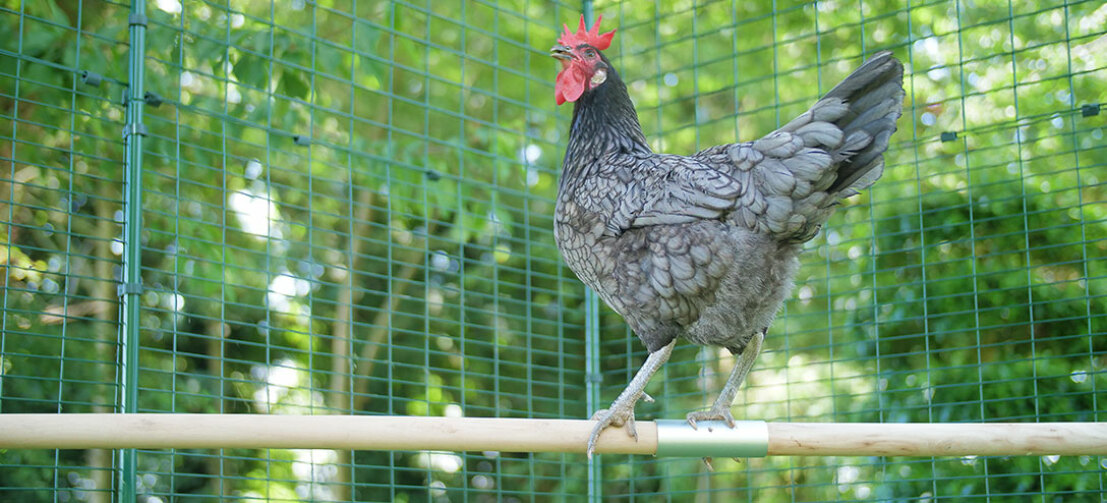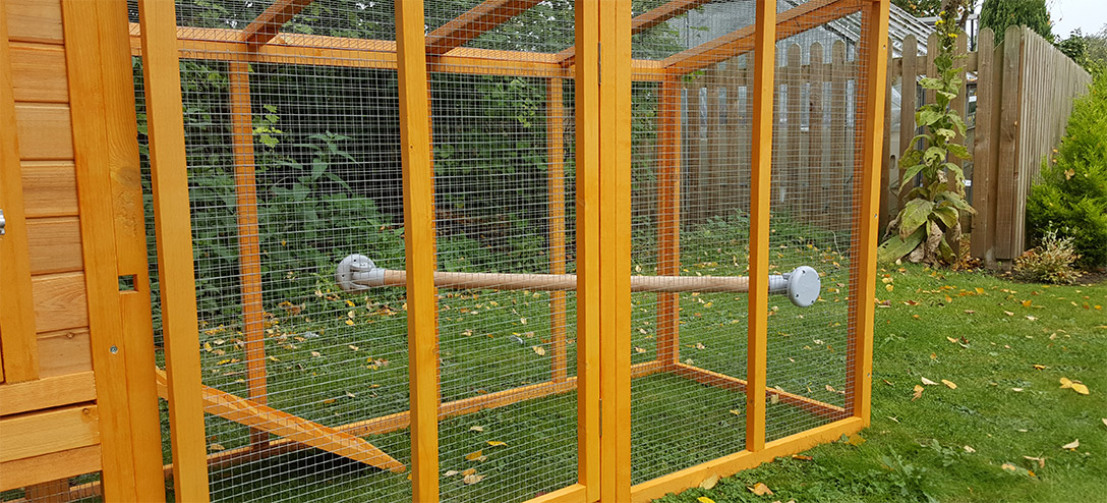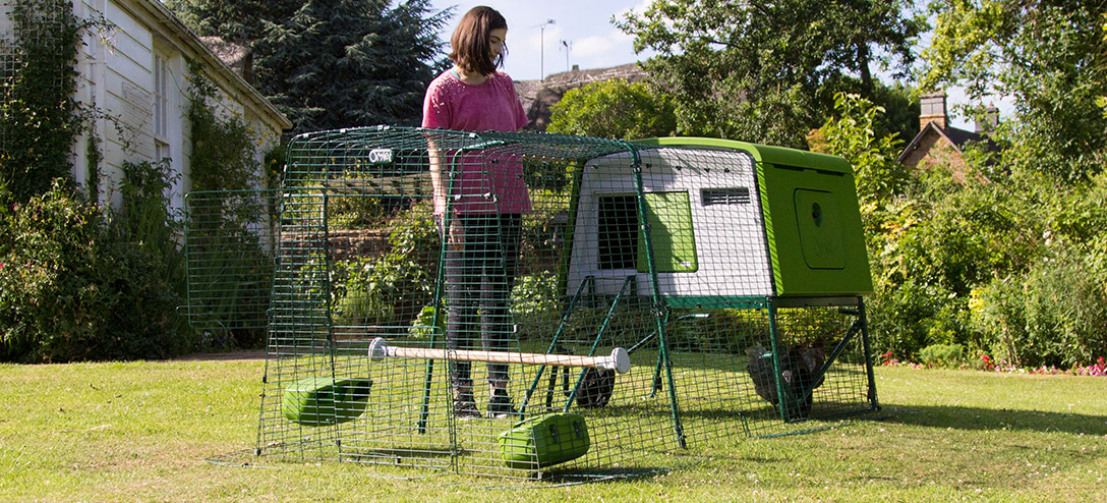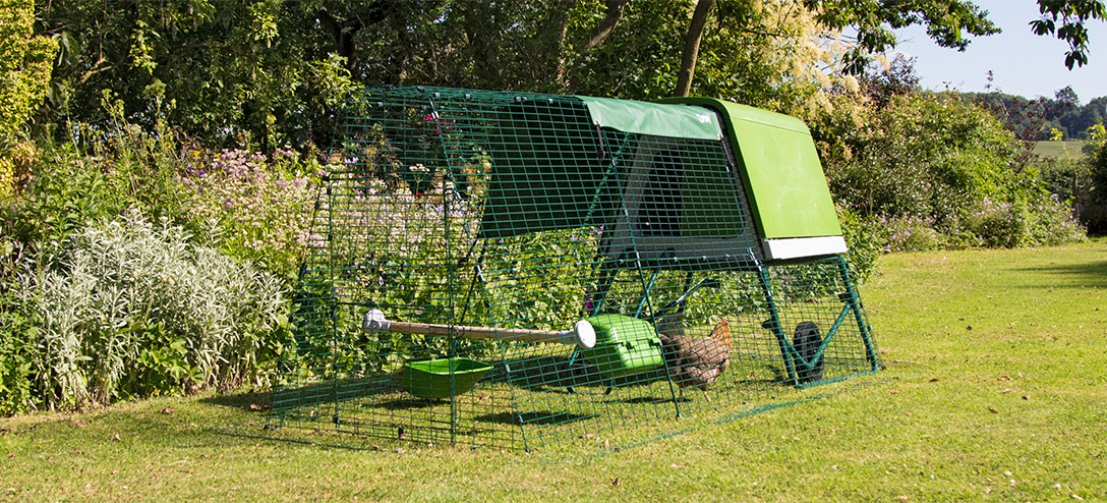 Choose Your The Omlet Chicken Perch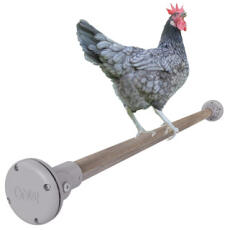 Omlet Chicken Perch - 1 meter
Checking stock in our warehouse...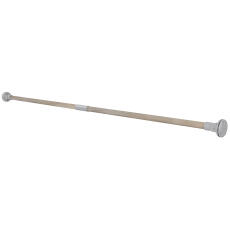 Omlet Chicken Perch - 2 meters
Checking stock in our warehouse...
6 Reasons To Buy From Omlet

180 Day Money Back Guarantee

Free Returns

2 Year Warranty

Brilliant Customer Service

Secure Payment

Over 17,000
5 Star Reviews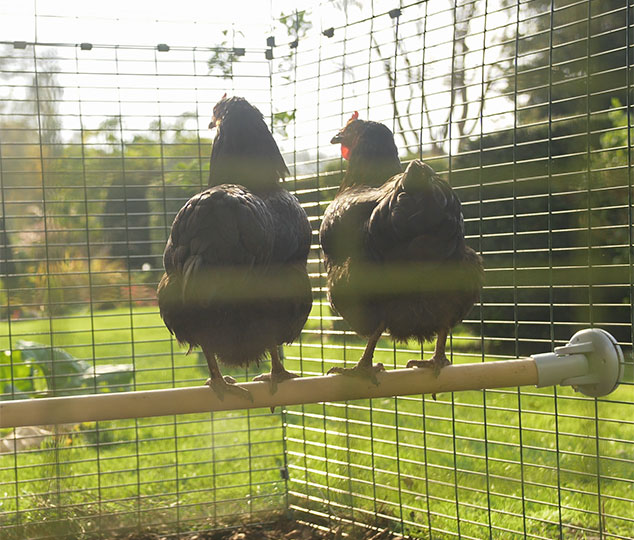 2 Miss Pepperpots roosting on a perch
Hentertainment of the Highest Order
Your birds love to perch and not just in their house at night. During the day they will happily hop onto a wheelbarrow handle, the back of a chair or even on the edge of flower pot. It's an instinct that comes from the very earliest chickens that lived in forests and today's domestic hens still have a natural desire to perch from the highest available point. Made from naturally weather resistant eucalyptus, the perch is a comfortable size for bantams as well as large breeds of chickens to grip.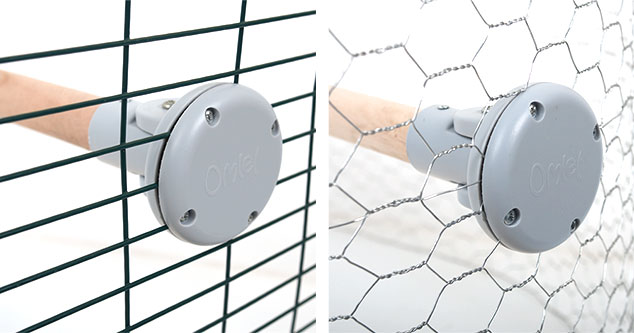 The perch can be attached to any sort of wire
Fits All Chicken Runs
Whether you have an Eglu Chicken Coop, Walk in Run or a DIY chicken coop… the Omlet Chicken Perch will fit them all. This innovative perch for chickens has a special connector which clamps around any chicken wire or chicken mesh leaving a secure and very neat looking finish. It's one of the easiest and cheapest ways you can add a perch to your chicken run that your hens will use every day.
The single perch fits directly across the Eglu Cube, Eglu Go UP, Eglu Go and the Eglu Classic. The double perch fits across an Eglu Cube MK1 (pre September 2016) and a 2x2 Walk in Run.
It can be used as an outdoor chicken perch or indoor perch for chickens.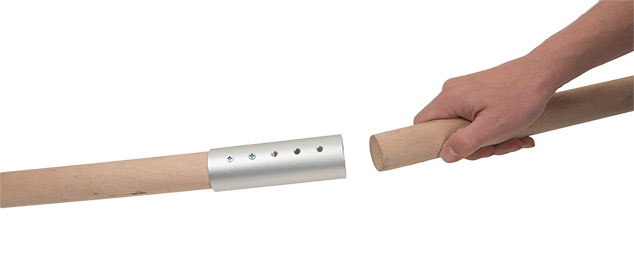 Extending a perch with a connector
Extend and Reduce Length to Fit your Run Exactly
If you require a longer perch then you can simply attach two bars together using the strong, rust free aluminium perch connector supplied with the 2 meter / 6ft chicken perch. We don't recommend extending beyond 2m unless you provide your own additional support to the perch. You can shorten the perch by sawing it to the correct length. The perch connector and end caps neatly cover any cut join.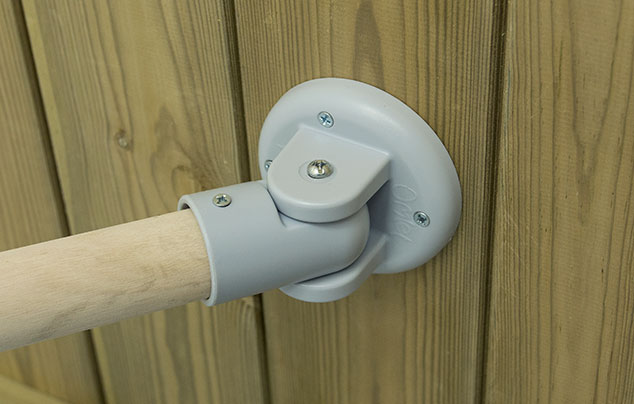 You can easily attach a perch to a wooden coop
Attach Directly to Any Surface
You can install the Chicken Perch inside any wooden chicken coop so that your hens may use it for roosting at night. Simply screw the perch into the wooden walls of your coop using the attachments provided and your chickens will have a brand new sturdy roosting bar to enjoy. Self tapping wood screws are supplied with the Chicken Perch for ease of assembly, so wherever you decide to position yours you can be sure it will be quick and simple to attach.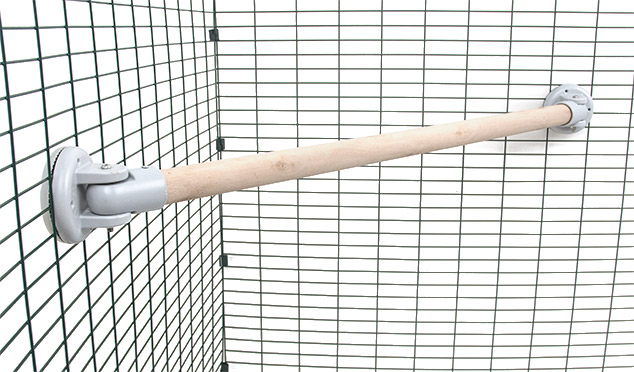 The perch can be attached across the corner of your run
Works Across Corners
The hinges allow the Chicken Perch to be connected either from one side of a run to the other or at an angle across the corner of a run, giving you the flexibility you need to make the most of the space within your chicken setup.
Your chickens will love having a perch in their run and you can even add several at different heights to give your flock a choice of perches. Whilst it might not seem like an obvious activity, a static perch is actually one of the best additions you can make to your chickens run. And if you have a big flock of chickens, you can add several perches in different locations. Easy to fit and your hens will love it, order your Omlet Chicken Perch today!
Specifications:
Chicken Perch - Single
Length (assembled): Approx. 1 meter
Diameter: 33mm
Packaging Dimensions: 96cm x 14cm x 11cm
Chicken Perch - Double
Length (assembled): Approx. 2 meters
Diameter: 33mm
Packaging Dimensions:
---
Frequently Asked Questions
Verified Reviews - The Omlet Chicken Perch
---
Customer Images - The Omlet Chicken Perch - 29 of 138
Related Products