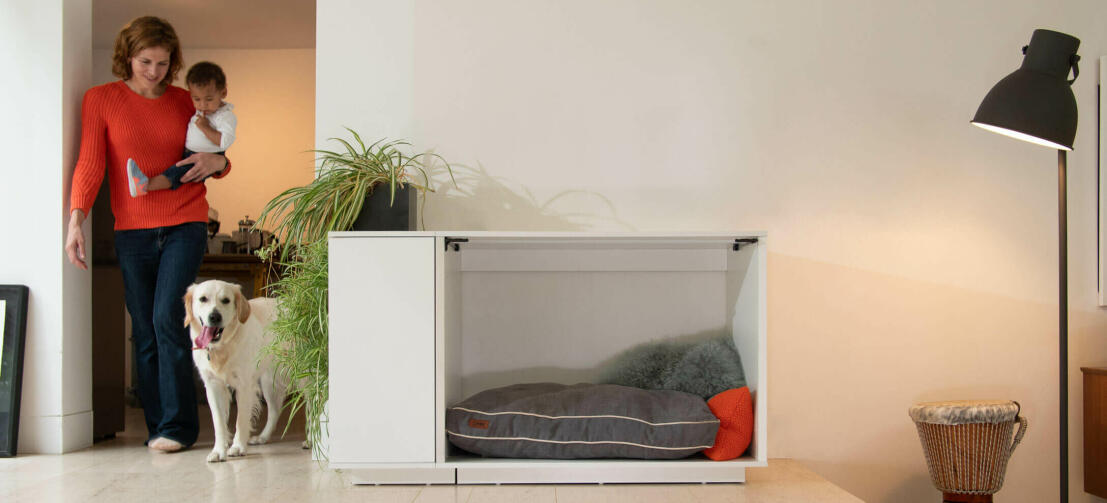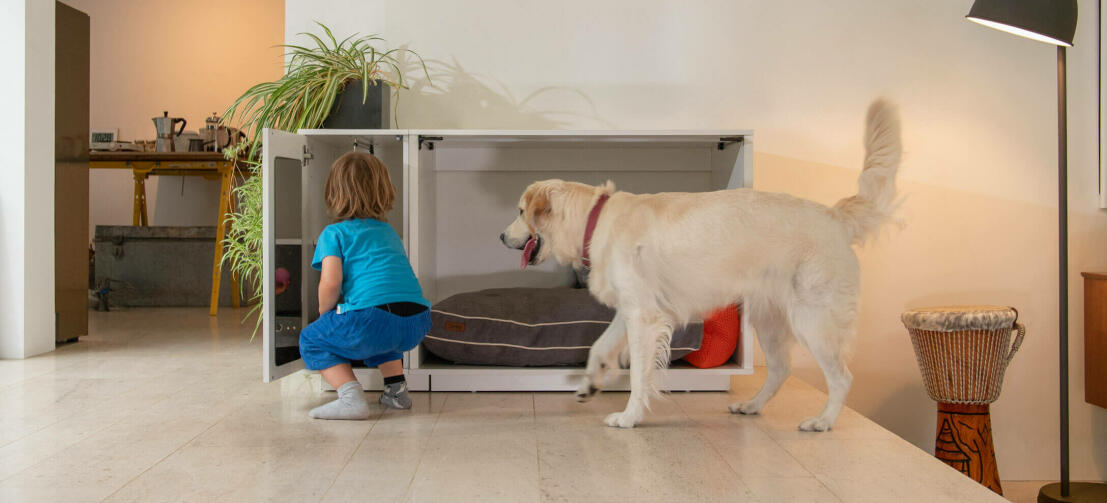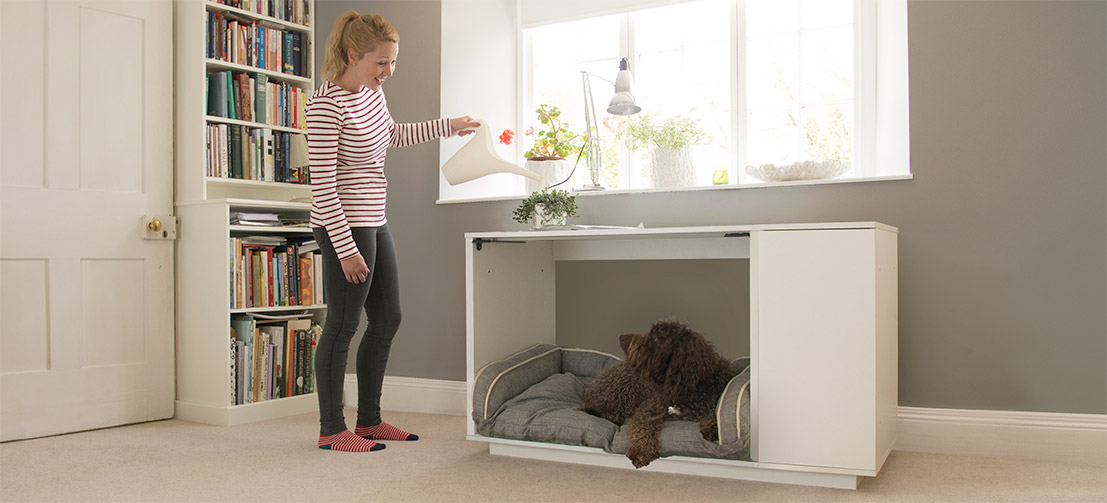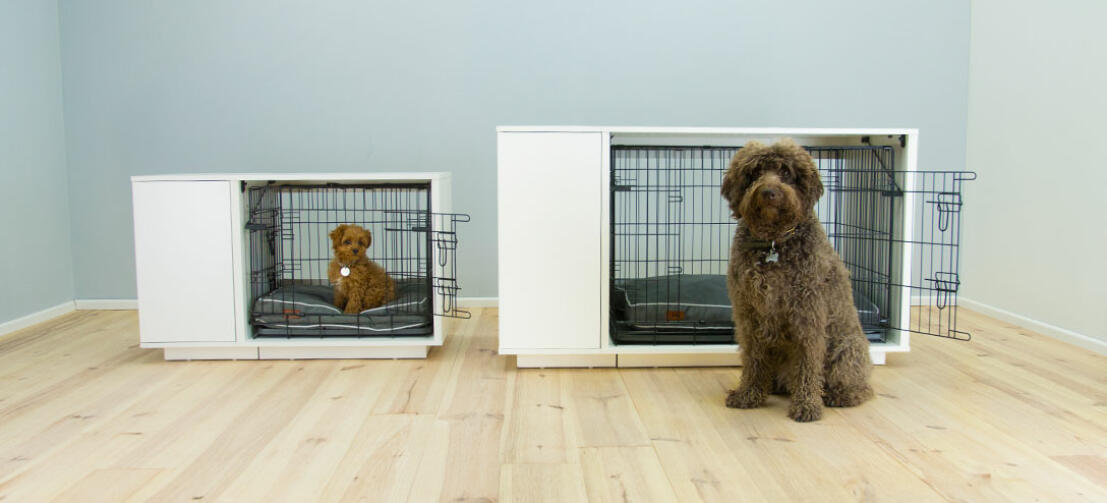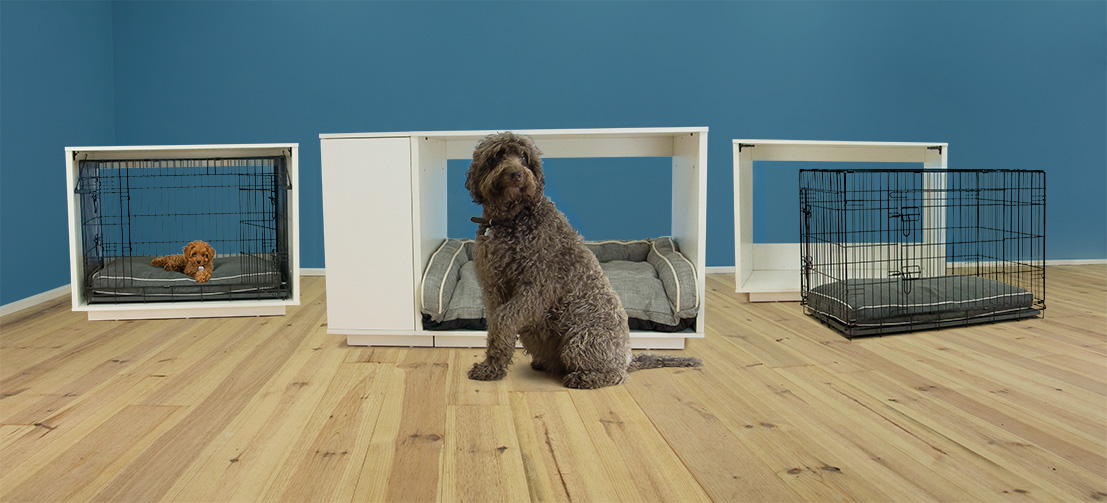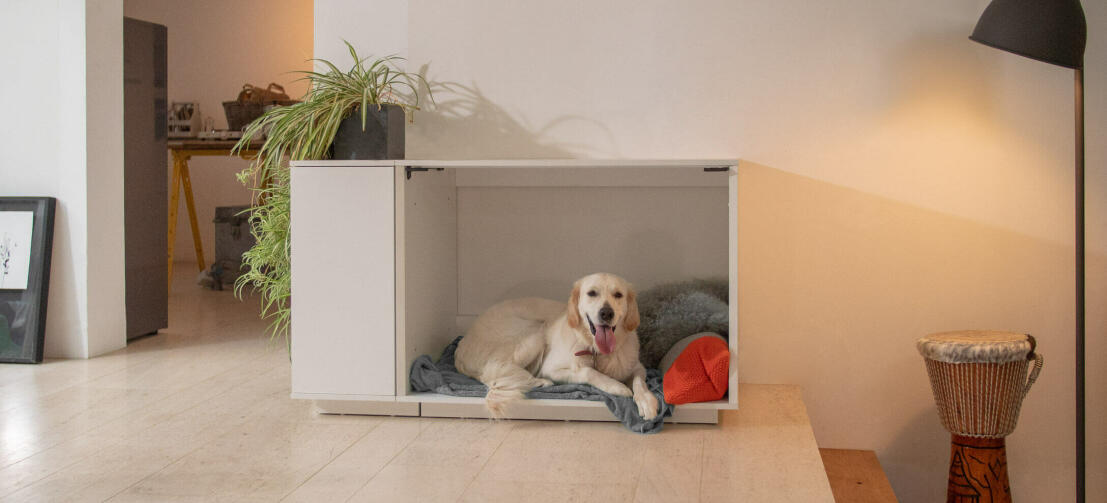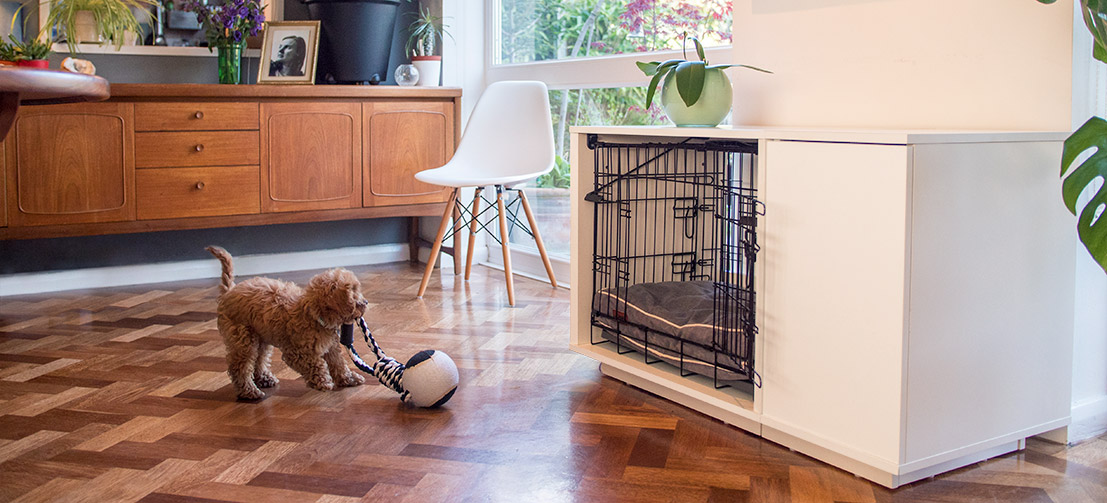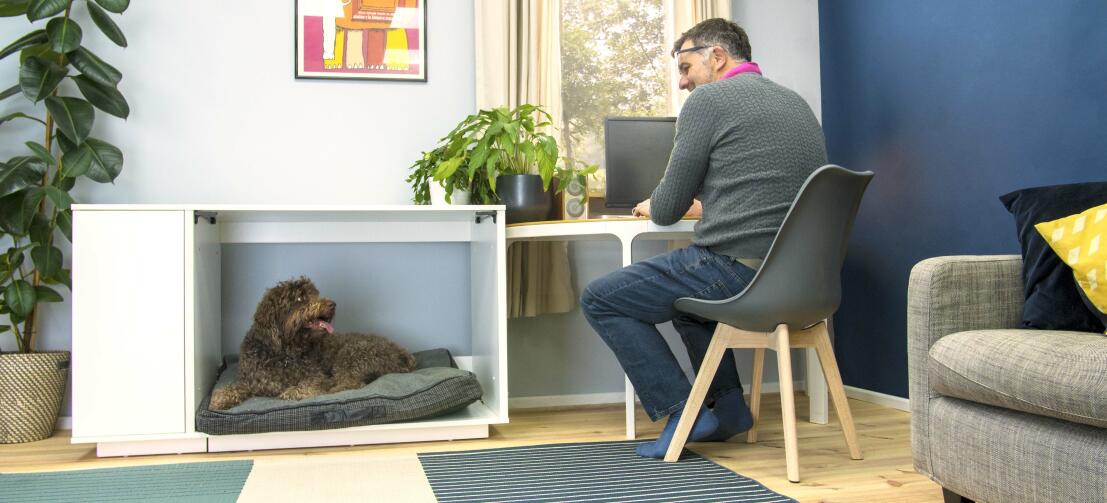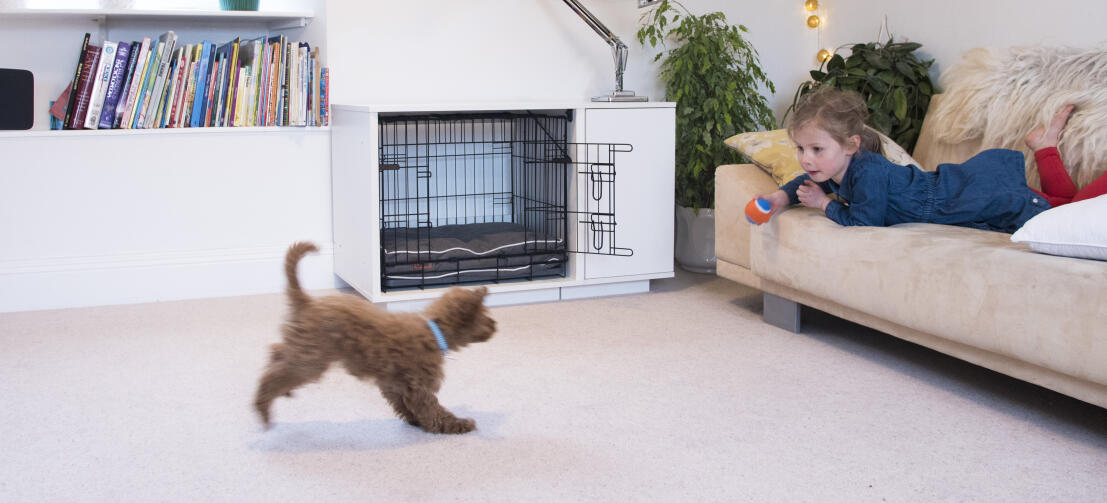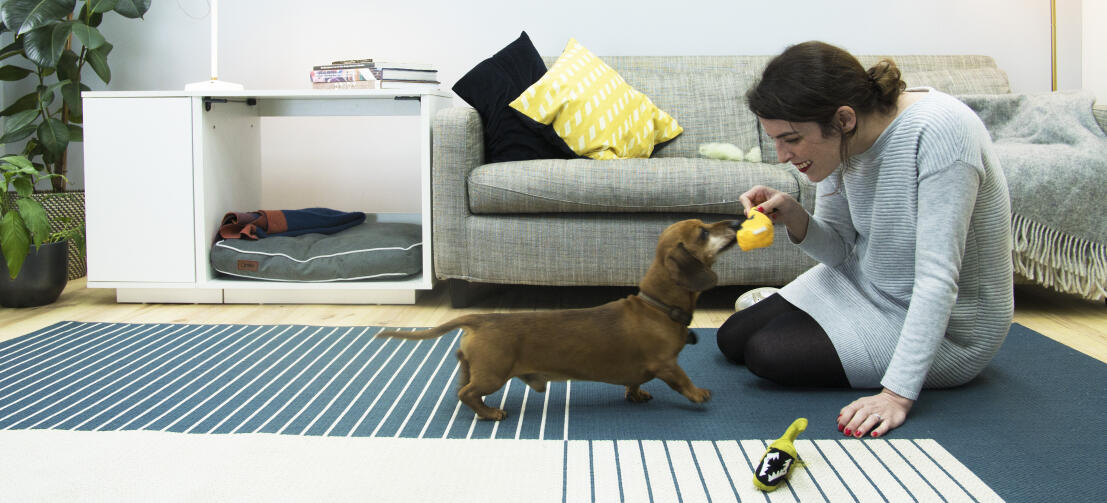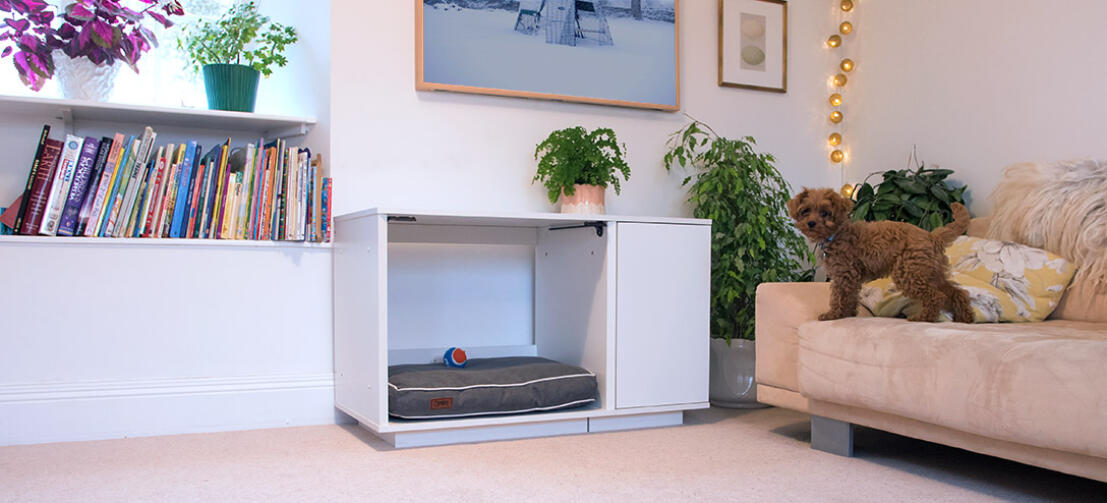 New Fido Nook - The 2-in-1 Luxury Dog Bed And Crate
The Fido Nook combines a modern and elegant piece of wooden furniture with a cosy space for your dog's bed. It elegantly complements your home whilst providing your pet with theirs.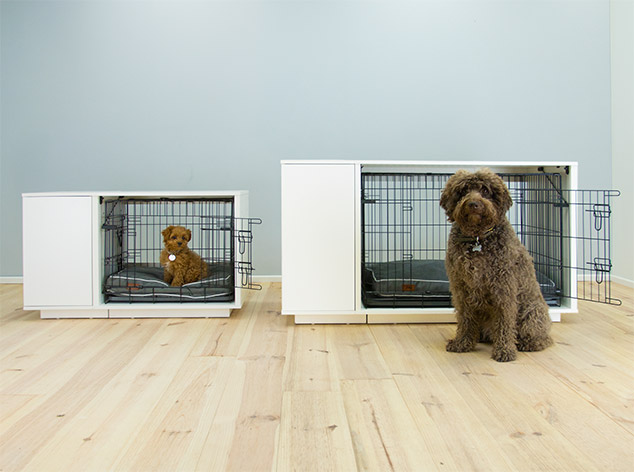 Elegantly designed, the Fido Nook will compliment your home while providing your dog with theirs
Fido Nook Size and Breed Guide
The Fido Nook is available in two different sizes so whether you have a small dog such as a Chiuaua, Yorkie, Schnoodle, Pomsky or a larger breed such as a Spaniel, Cockapoo, Goldendoodle or Labrador there's a Nook that's just right for them.
The Fido Nook 24 has an internal width of 63cm / 25in and has been specially designed for smaller dogs. Breeds such as the Chiuaua, Chorkie, Puggle, Dachshund, Lhasa Apso, Chug, Pomerianian, Pug or Yorkshire Terrier are ideally suited to the Fido Nook 24. If you are using it without the crate, then slightly larger breeds such as the Schnoodle (Schnauzer Poodle cross), Maltipoo (Maltese and Poodle cross), Yorkipoo (Yorkie and Poodle cross), Pekeapoo Pekingese and Poodle cross) and Cavapoo (Pip the star of our photoshoot is a Cavapoo) are also suitable.
The Fido Nook 36 has an internal width of 96cm / 38in and has been designed to accommodate larger dogs. Bulldogs, Spaniels, Whippets and other such similar breeds will feel right at home in the Fido Nook 36. If you are using without a crate then larger breeds such as the Bassador (Basset hound and Labrador cross), Labradoodle (the star of our photoshoot is a Labradoodle called Treacle and is a cross between a labrador and a poodle), Goldendoodle (Golden Retriever Poodle cross) and labradors are also suitable.
And of course, if you have a good old fashioned Mutt then there's a Fido Nook for them too!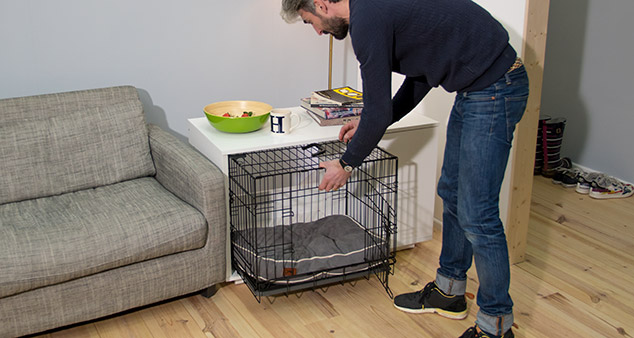 Using a dog crate is an excellent way to train a puppy
From Training Crate to Doggy Den
Experts agree the fastest and most reliable puppy potty training method is to use a dog crate. A dog crate also provides your pet with its own space within your home, helping it to feel settled. Your puppy will naturally go to it's crate if they want to sleep or just relax. Both the Fido Nook 24 and 36 sizes are compatible with most manufacturers equivalent crates, so if you already have a crate the chances are it will fit. All dimensions are at the bottom of the page for you to easily check.
Once a puppy is house trained many people prefer not to continue using a crate because the style may not suit their home. They remove the puppy's crate and put a dog bed directly on the floor. The new dog bed can be draughty and noisy which not only leaves the puppy feeling exposed but it can also make them nervous.
The Fido Nook not only provides a safe haven in which your dog can relax and feel safe, it can also have a positive effect on your dog's behaviour. You'll find your dog is more confident and calm as they enjoy the warmth and security that having a special place to call their own brings. With the crate removed the Fido Nook is completely mesh free and stands alone as a stunning piece of furniture that will compliment any living room.
Integrated Dog Crate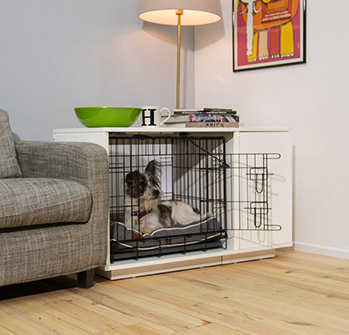 You can securely integrate a puppy training crate into the Fido Nook. Unlike traditional dog crate covers it compliments your home as a stylish piece of furniture.
Quick Release Lock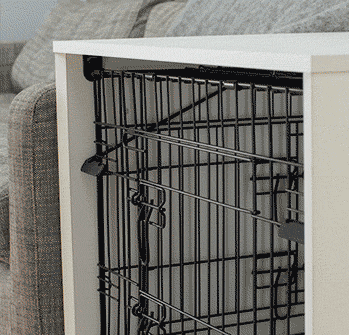 Omlet's innovative easy release lock mechanism makes it simple to secure and release your dog crate from the Fido Nook.
Luxury Dog House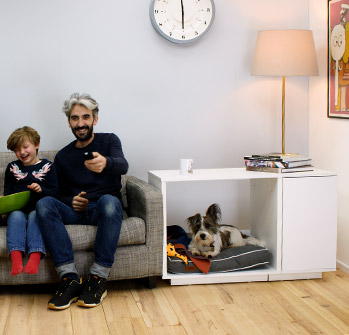 With the crate removed you can combine your dog's favourite bed with the Fido Nook to create the ultimate luxury dog kennel.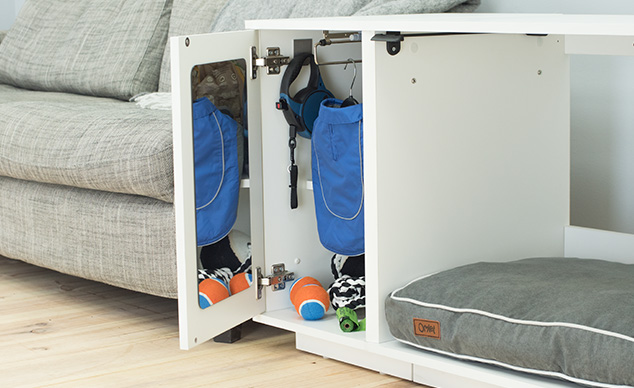 The wardrobe integrates beautifully with the Fido Nook to create an elegant storage solution
Integrated Wardrobe Helps To Keep Your House Tidy
The Fido Nook is available with a fully integrated wardrobe which offers a wonderfully practical storage solution for your dog's harness, leash, dog toys, treats and other accessories.
Until now, dogs and a tidy home have not necessarily gone together. But with a Fido Nook wardrobe your dog's clothes will no longer be discarded on the floor and say goodbye to your dog's favourite ball being a trip hazard in the hallway. With the clothes rail you can hang several dog coats neatly and the tough storage basket has loads of room for all the essentials. Use the shelf to store your dog's bowl and there's plenty of space for food and treats too.
The wardrobe integrates seamlessly on either the left or right hand side of your Fido Nook to create an elegant and incredibly practical solution. Now all of your dog toys, dog clothes, dog treats and other handy accessories can be practically stored together within your dog's very own, beautifully designed luxury dog bed.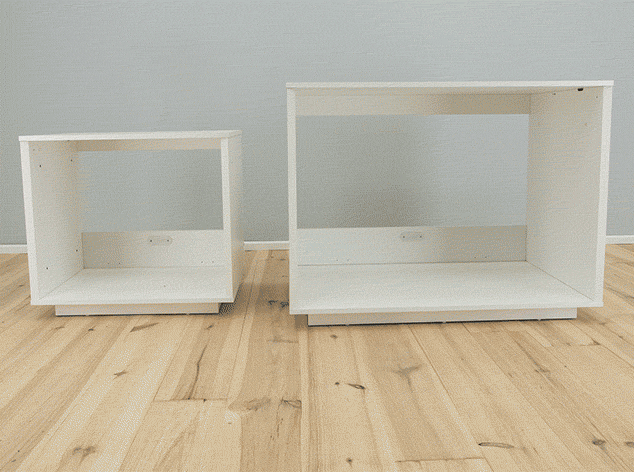 Customize the look of your Fido Nook with a limitless choice of dog beds
Ideal For Use With Most Dog Beds
You can use your dog's favourite bed such as a memory foam bed, luxury bolster bed or vet bed in the Fido Nook or choose one supplied by Omlet. The Fido Nook 24 measures 63cm/25in across and 49cm/19in front to back and is ideal for use with the Hound Comfort Bed S/M. The Fido Nook 36 measures 96cm/38in across and 63cm/25in front to back, with the Dream Paws Sofa Bed providing a snug fit. Every Fido Nook comes with an anti-slip mat that sits underneath the dog bed that you choose to put in and makes sure it stays in place. By placing your dog's bed in the Fido Nook you also neatly catch dirt and hair in one place, keeping your house cleaner.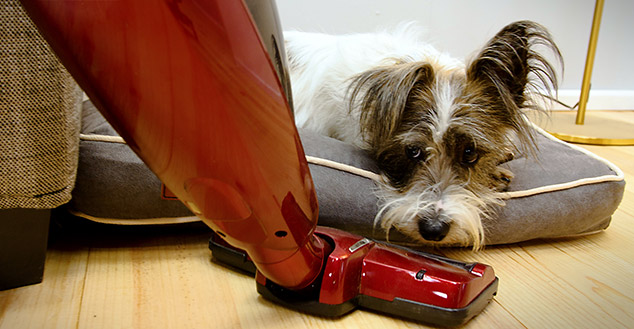 The Fido Nook protects your dog from draughts, bumps and unwanted disturbances
Avoid Draughts, Bumps And Discos
Raised off the ground, the Fido Nook offers many advantages over simply placing a dog bed on the floor. By placing your dog's bed inside the walls of the Fido Nook you will protect it from accidental bumps and disturbances that happen in busy households. Your dog will happily sleep, blissfully unaware that you've just vacuumed the living room and if the kids are having an impromptu disco your dog can take a break from the dancefloor.
It can be surprisingly draughty low down in a house and raising your dog's bed by placing it in the Fido Nook will also protect your pet from catching a chill. Providing your dog with their own secluded space such as the one offered by the Fido Nook can not only make them feel more comfortable but has also been proven to improve confidence and overall behaviour. This is especially true when socialising and raising puppies or slightly older dogs with a tendency to be nervous.
Subtle And Stunning At The Same Time
The Fido Nook has been designed and meticulously tested by Omlet, world leaders in modern pet housing. It's subtle design complements both modern and traditional interiors. The look and feel of the Fido Nook can be changed by your choice of colour, pattern and style of bed and unlike fabric dog crate covers it can be wiped clean of any muddy paws. And because it's a complete piece of furniture the space above your dog can be reclaimed to display cherished items, plants or perhaps a beautiful side light.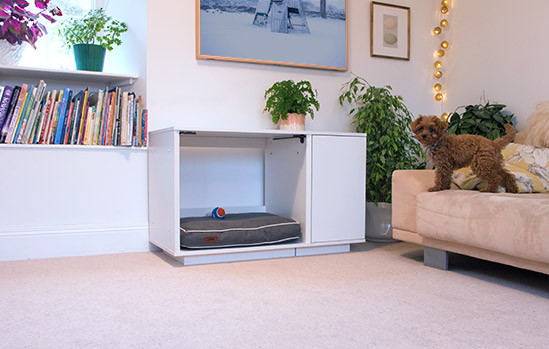 The subtle design of the Fido Nook complements both modern and traditional interiors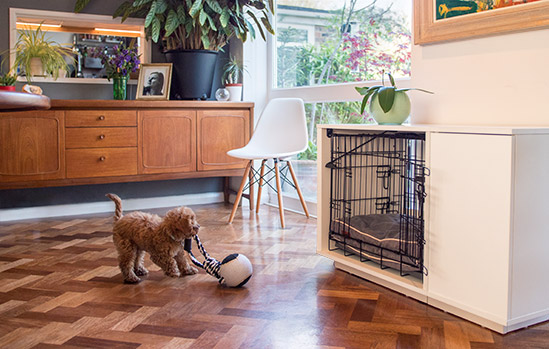 The modern piece of pet furniture allows you to reclaim the space above your dog's crate
Storage Wardrobe Keeps Things Tidy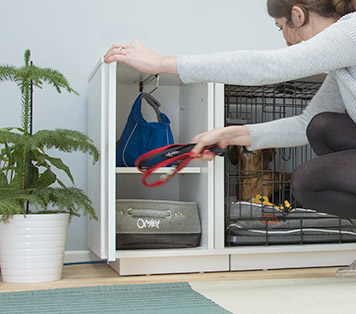 The optional wardrobe keeps your dog lead, dog clothes, dog toys and dog food nice and tidy in one place.
Durable Tray to Catch Spills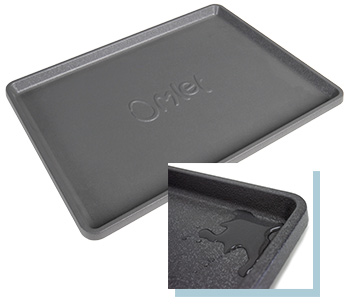 This tough plastic tray will catch any spills making cleaning quick and easy.
Deep Filled Bed That Fits Perfectly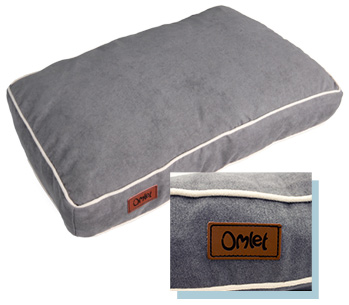 This extra deep filled bed is designed to fit exactly into the Fido Nook and has a removable machine washable cover.
Pull Out Basket For Easy Storage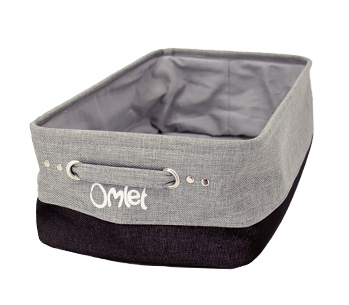 Keep toys, grooming kit, towels, treats and other dog accessories in this large basket. Finished in a two tone grey and with a second easy to wipe liner, it's a really useful addition to the Fido wardrobe. Comes with a handle at each end to make carrying easy and has the distinctive Omlet logo screen printed on it.
Integrated Mirror, Clothes Rail and Shelf
Maximise your Fido Wardrobe with the optional mirror, clothes rail, hook and shelf. Sort your dog's clothes and make it easy for them to choose today's outfit! The hook can be attached anywhere and means you'll never lose your dog lead again. If you are not using the clothes rail then the shelf is a handy way to divide the wardrobe while the stylish mirror is made from 2mm safety acrylic.
Quick Release Lock Secures Your Crate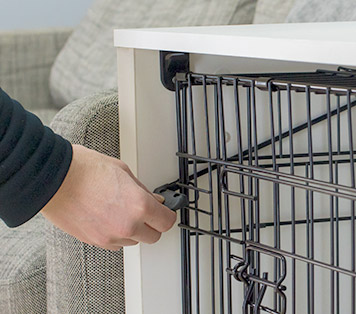 Experience the full versatility of the Fido Nook with this handy mechanism. Omlet's innovative quick release lock means you can safely secure your dog crate within the Fido Nook dog furniture in moments. You can then remove the crate just as easily for use on car journeys.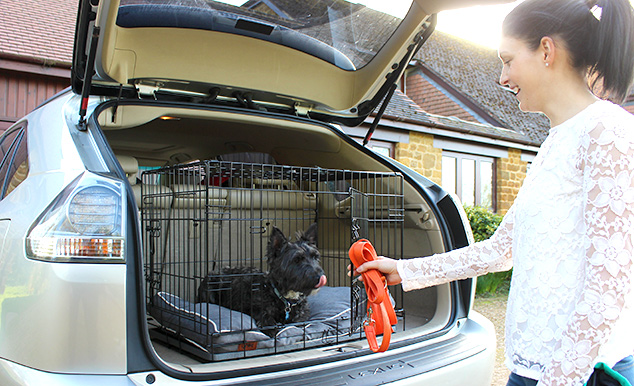 Using a dog crate is the safest way to transport your dog on car journeys
Transferring Your Dog Crate to the Car Made Easy
Using a dog crate when you and your dog are going on a car journey is the safest way to transport your dog. One of the many great features of the Fido Nook is that it is fully compatible with the Fido Classic dog crate as well as crates from most other manufacturers.
The easy release mechanism on the Fido Nook is the first of its kind on any piece of dog furniture. To operate, simply raise the levers, which neatly clip into the stow position, and then remove the crate. You can now take your dog crate out to the car. When you return simply slide the dog crate back into the Fido Nook and move the levers into the lock position. A sound proof material quietly secures each lever against the dog crate and ensures that you and your pet are not disturbed.
See the below section on dimensions to check if your existing travel crate or dog bed will fit into the Fido Nook.
Fido Nook Dimensions and Packaging Specification
The Fido Nook is currently available in two different sizes. The Fido Nook 24 is suitable for dogs up to 20kg / 45lbs and is ideal for small to medium breeds such as the Yorkshire Terrier and Cavapoo. The Fido Nook 36 is suitable for larger breeds up to 40kg / 90lbs without the crate such as the Labradors, Spaniels and Labradoodles. Please see below for dimensions and specifications of each size. If you are not sure or have any questions about which size will be right for your dog please don't hesitate to call us on the number at the top of the website or email our friendly customer service team and they will be very happy to help you.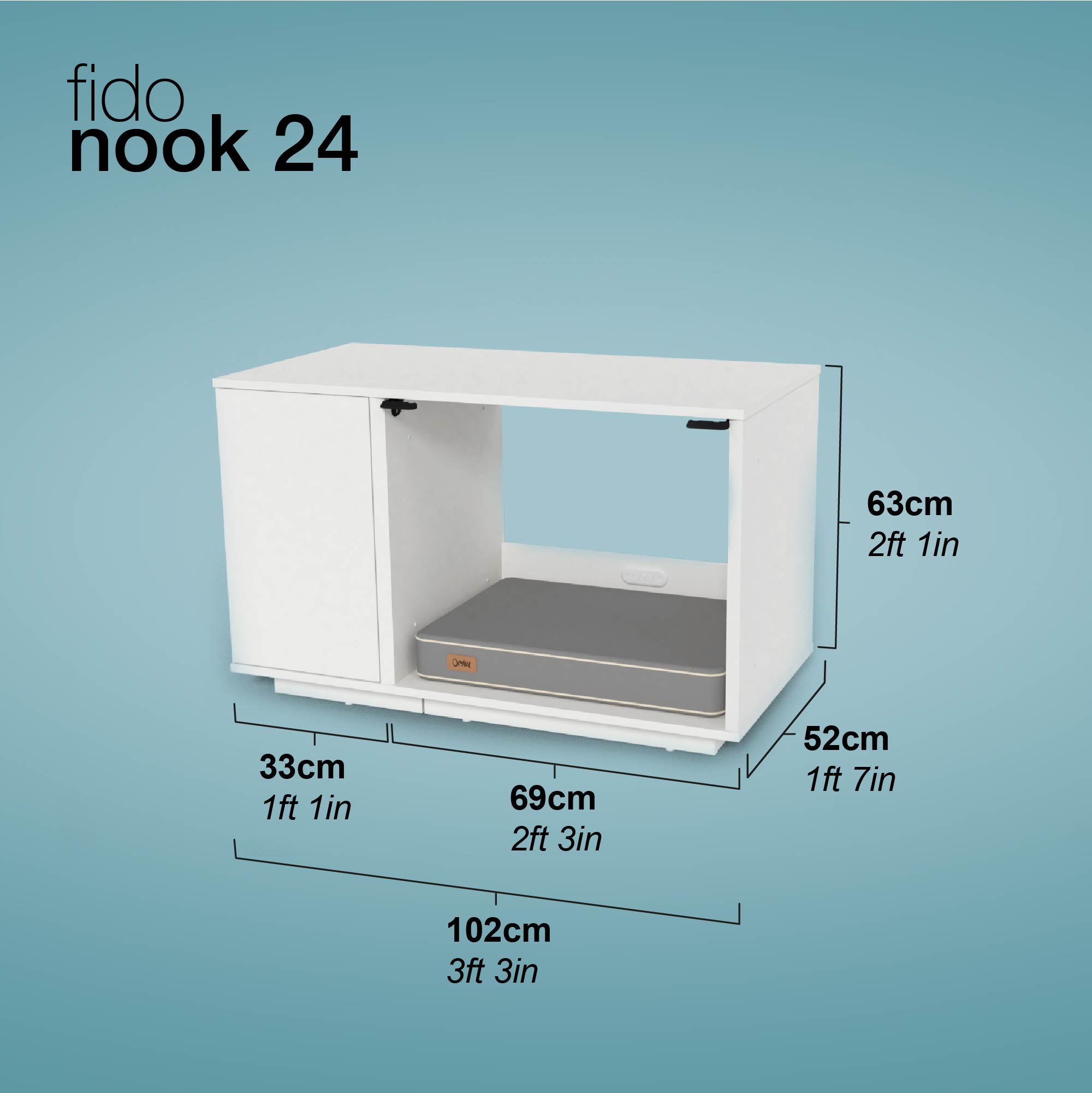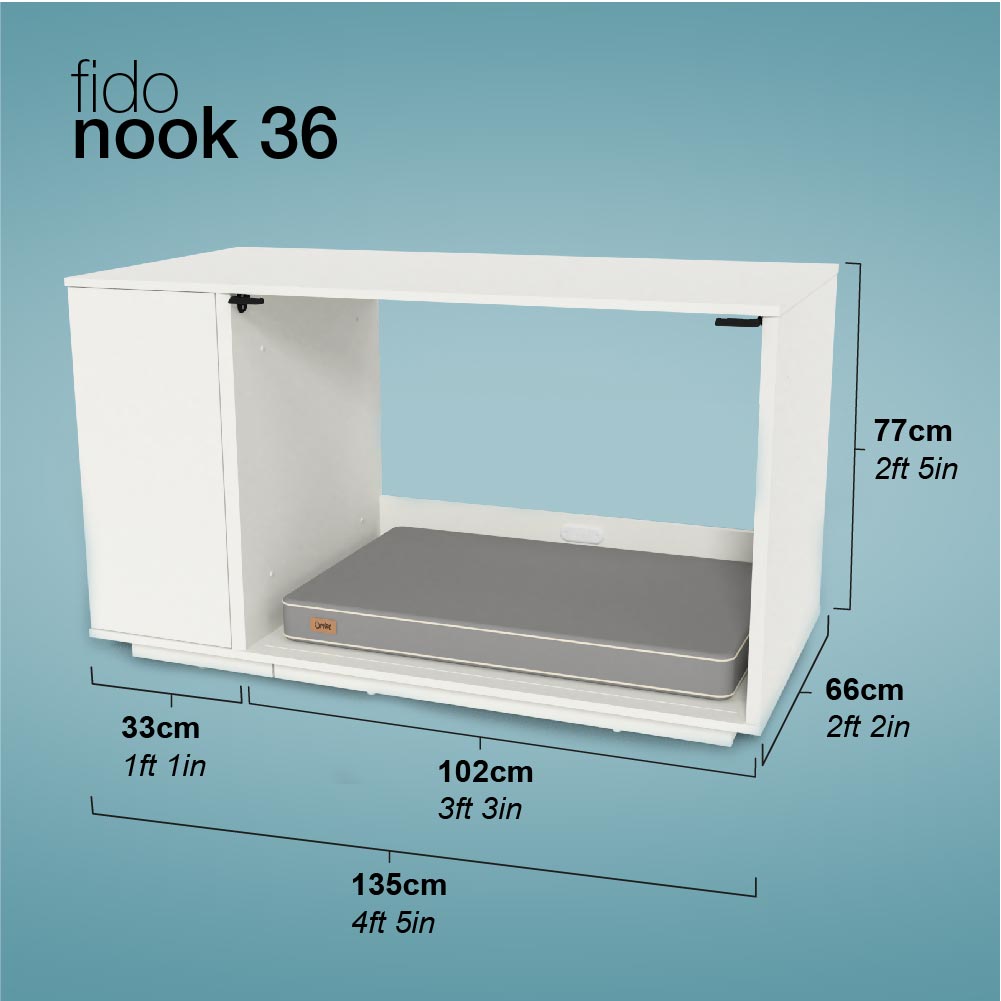 Frequently Asked Questions
Which size crate do I need for my dog?
Measure your dog and compare with the dimensions on the website. There are also some example breeds for reference. You might also be able to get some guidance from our dog bed size guide, as the small bed fits in the Fido Nook 24 and the Medium in the 36, but these will not be 100% accurate.
It's important to remember that puppies grow quickly, so make sure you get a size that will fit your dog as they grow.
Will the curtains fit on the Nook with the crate in place?
No, the curtains will only fit when you're using the Nook without a crate.
Can I place the wardrobe on either side?
Yes, however you will need to decide before you start assembling the product on which side you want the wardrobe to go. You can only add one wardrobe to your Fido Nook.
No, this is not currently available.
What can I put on top of my Fido Nook?
To avoid any damage to the panels, please only put lightweight things on top of your dog crate, for example small house plants or picture frames. Never place large, heavy items like TVs or appliances on top, as the furniture might not be able to hold the weight.
Is it normal that the plastic mat under the crate is smaller than the crate?
Yes, that is how the mat is designed. It should be placed in the middle of the base to stop the crate from moving.
My magnet doesn't seem to work, what's the problem?
You might have to twist the magnet to make sure it fits properly. Contact our customer service team if you cannot get it to work!
New Fido Nook - The 2-in-1 Luxury Dog Bed And Crate
We bought this for our new puppy. It was easy to put together and seems well made. Looks much better than a bare crate in the room
Review for:
Fido Nook 36 Dog House with Crate and Wardrobe - White
This reviewer has 1 German pointer pets
A great piece of furniture
Brought this ready for my new puppy I love it fits in my lounge room and have been able to make her a very cosy little nest which in turn has really helped to settle her in.
Review for:
Fido Nook 36 Dog House with Crate - White
This reviewer has 1 Kelpie pets
With downsizing imminent I thought this unit would be very useful to keep a puppy out of harms way before , during and after the big move. He has not been crate trained but loves going into the crate for his chew treats and the odd snooze . I other words he loves it.
Review for:
Fido Nook 24 Dog House with Crate and Wardrobe - White
This reviewer has 1 Mini wired haired Da pets
Lovely piece of furniture. Very happy with the quality and how it looks in our kitchen. The service from the Omlet team has also been top quality! Thank you.
Review for:
Fido Nook 24 Dog House with Crate and Wardrobe - White
This reviewer has 1 Border terrier pets
My 1 year old Aussie loves his new Fido Nook! The bed is comfy and the closet is a great place to store toys and clothes! His big sis likes to sneak in when he's not using it, too. Best of all, it fits right in in my living room and looks as beautiful as any furniture.
Review for:
Fido Nook 36 Dog House with Wardrobe - White
This reviewer has 2-4 Australian Shepherd, pets
Read more reviews